Ian Woosnam questions future Masters appearances
Last updated on .From the section Golf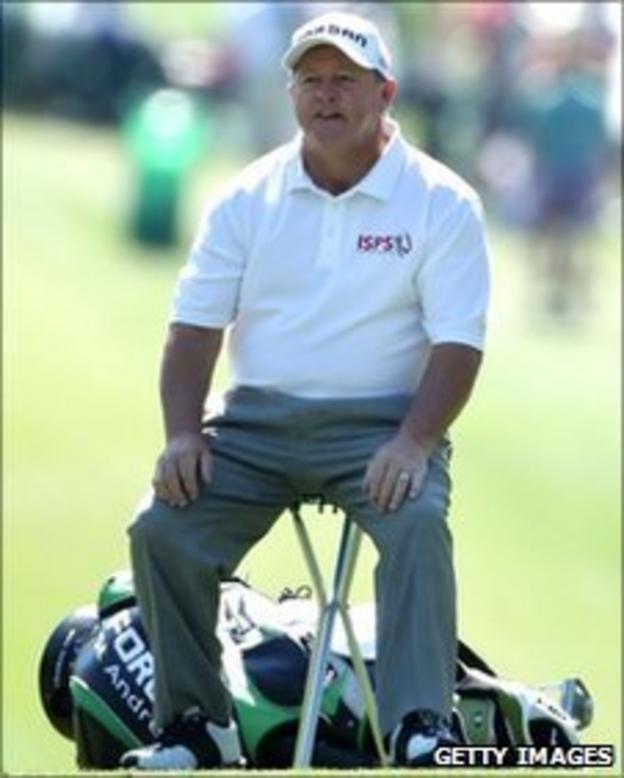 Ian Woosnam said he might have played his final round at the Masters after suffering a recurrence of a hip problem in Friday's second round at Augusta.
The 1991 champion, now 53, added a 77 to his first round 78 for an 11-over-par total that left him way out of contention to make the halfway cut.
"I don't know if that's going to be my last or not yet," he said. "I'll have to see how I'm playing next year.
"If I'm in this sort of state I most probably won't play."
Woosnam began the second round with an encouraging birdie at the par five second hole, but the Welshman dropped four shots before the turn to leave him on nine over par.
The back nine brought a further three bogeys and a solitary birdie, ending any faint hopes of qualifying for the final two rounds in his 23rd appearance at golf's first major of the year.
After years of struggle dealing with the painful, progressive rheumatic disease Ankylosing Spondylitis, Woosnam has appeared to be playing free from pain on the European Seniors Tour in recent years.
But as he trudged off the 18th hole at August after another round in excess of five hours, he acknowledged that the undulating course had taken its toll.
"I'm absolutely knackered. My hips have seized up again," said Woosnam, who is invited to play each year as a former champion. "I've had a lot of treatment, I'm very sore.
"But I'm glad I played the two days and struggled through it."
As he waited to take his tee shot on the eighth, Woosnam was forced to sit down and on a small portable seat he carries that helps to alleviate his back spasms.
"The seat is not a bad thing to have because it does not weigh anything, especially yesterday when it was five-and-a-half hours to get round," he added.
"I think we were almost five hours today - it's too slow really."
Despite the pain and disappointing score, Woosnam said he had no regrets about playing, and was relatively happy with his game after improving on last year's performance by nine shots.
"I played pretty good, my short game is just not good enough really," said Europe's victorious 2006 Ryder Cup captain, who has won three Senior Tour events since his debut in 2008. "I just didn't hole a putt all week."