Masters 2011: Missed chances frustrate Ian Poulter
Last updated on .From the section Golf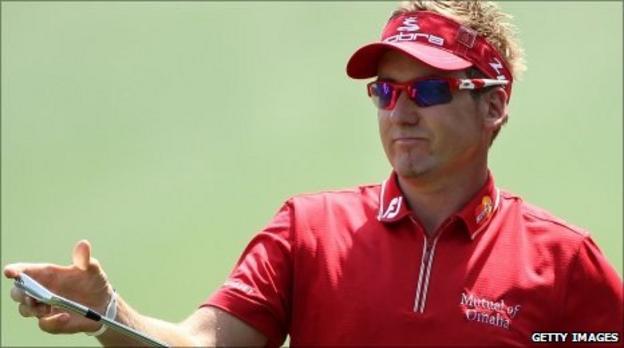 Ian Poulter admitted to feeling frustrated and disappointed despite playing some of the best golf of his career at the Masters.
The Englishman carded a third-round one-under-par 71 to lift him to two under for the tournament.
"I've played some of the best golf I've played in many years," he said.
"I gave myself lots of chances but the back nine summed up the week. I had eight birdie opportunities and I didn't take any of them and then bogeyed 15."
Poulter, who also bogeyed the first hole on Saturday but hit back with three birdies in between, continued: "I'm disappointed. I feel I have left shots out there and two under par now is eight off the lead and I feel I've left more than that out there. It's a shame.
"I can go low [on Sunday] and even if I go low it is not going to be enough so I'm a bit disappointed. I'm frustrated.
"It's one of those golf courses which is very playable if you are playing great golf but I haven't converted the chances I've given myself."
Poulter pinpointed his performance on the run of three holes from the par-five 13th to the par-five 15th as the reason why he is not further up the leaderboard.
"I'm level par through that stretch for three days which just isn't good enough because guys are cashing in there and I'm not," he said.
"It has been one of those weeks so far. I've driven the ball as good as I ever have done.
"I had eight birdie opportunities and good looks as well and I didn't take any of them and I managed to make a bogey on the 15th.
"So shooting one over par on the back nine after having eight great birdie opportunities is pretty sour. I can only go out tomorrow now and try to move up the leaderboard as much as I can."