Rory McIlroy clubs mislaid in flight to Malaysia
Last updated on .From the section Golf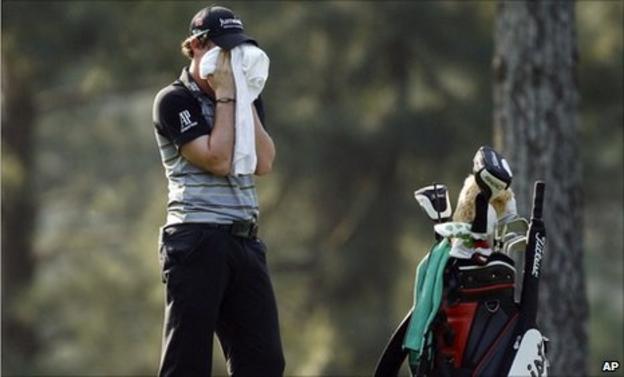 Rory McIlroy's run of misfortune continued when he arrived in Kuala Lumpur without his clubs.
The 21-year-old, who led the Masters by four shots before a final-day 80, is playing in this week's Malaysian Open.
Discovering his loss after a 25-hour flight from Georgia in the company of Masters winner Charl Schwartzel, he said calmly: "It's one of these things.
"Going through so many time zones and so many connecting flights your bags are going to get lost sometimes."
The Northern Irishman said he was anxious to return to competitive golf at the Kuala Lumpur Golf and Country Club for the co-sanctioned European and Asian Tour event, which starts on Thursday.
"I feel like I'm playing really well at the minute," said McIlroy. "It showed for the first three days of Augusta anyway that the game is there. Hopefully, instead of doing it for three days like last week I can do it for four days this week.
"I don't think I need to change anything, just be a little calmer and a little patient on Sunday and hopefully that will be enough."
Reflecting on his miserable final round at Augusta which saw him drop into a share of 15th, world number nine McIlroy highlighted the 10th hole, when his drive ricocheted into the gardens of a private cabin, an area never previously witnessed in Masters competition, and led to a triple bogey seven.
"The only shot that I'd take back is that tee shot on 10," continued McIlroy.
"That tee shot on 10 was the first bad drive I hit all week and then from there, making seven on 10, I just sort of lost my way a little in the middle of the round.
"These things can happen very easily, I'll know in the future how to deal with it if it ever happens again," he added.
Asked about how he might approach a future Masters final round when comfortably ahead he said: "If I was giving advice I'd say don't read newspapers, don't look at the TV or anything like that.
"It's easy to say he's got a four-shot lead and if he keeps doing what he is doing he'll win, but it is a lot easier said than done.
"My advice would be almost put yourself in a bubble and don't let outside factors influence anything, whether that be newspaper articles, TV or anything."
McIlroy said the presence of Schwartzel on the flight with the Green Jacket that all Masters winners receive had not been uncomfortable and added: "It was fine.
"I've known Charl a long time and I'm happy for him, genuinely, he played great on Sunday. To go out and shoot 66 on the final day of the Masters to win was a great performance."
He had not been tempted to ask if he could try on the jacket. "No way, I wouldn't want to do that," he stated. "The only way that Green Jacket is going over my shoulders is if I win it for myself."
Schwartzel, meanwhile, admitted it would be difficult to play so soon after his Masters triumph, but insisted he was intent on another title.
"Right now as I'm sitting here I don't know if it is morning or night," the 26-year-old South African said.
"We've had a 12-hour time change and 24-hour flight. I was in the gym earlier to get the muscles loose and the body going. I don't just like to come and play. I said before I wouldn't be here if I didn't think I could perform.
"Obviously last week was such a big week. It's still so difficult to take it all in. I've been so busy with media afterwards and then straight from there I slept a few hours and got on a flight here. So I've not really taken it all in yet.
"Maybe next week when I'm at home I'll maybe sit and watch the highlights and reflect on last week. I'm just quite a happy guy right now."
Schwartzel, Open champion Louis Oosthuizen and defending champion Noh Seung-yul will form the marquee group over the first two days, but world number one Martin Kaymer starts as favourite despite missing the cut at Augusta.
"I think this is the strongest field the Malaysian Open has had," Schwartzel added. "I'm looking forward to this week. Whenever I enter a golf tournament I try to play my best. I will this week to see if I can win this one as well."