Rory McIlroy bounces back after Masters collapse
Last updated on .From the section Golf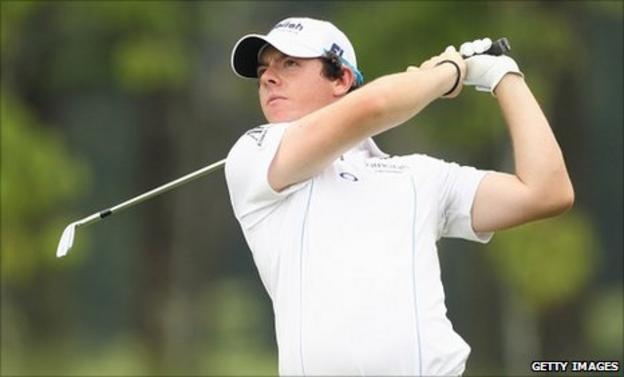 Northern Ireland's Rory McIlroy put his Masters disaster behind him to card a three-under 69 in the first round of the Malaysia Open in Kuala Lumpur.
The 21-year-old threw away a four-shot lead at the Masters, eventually finishing joint 15th, 10 shots behind winner Charl Schwartzel.
"I'm fine, I think other people are more upset about it," said McIlroy.
McIlroy sits five shots behind leader Alexander Noren of Sweden, while South African Schwartzel shot a one over 73.
Play was suspended towards the end of the first round due to what the organisers described as a "dangerous situation".
Four groups had not finished but they are scheduled to complete their first rounds on Friday morning, with the tee-off times for the second round unaffected.
"I will have lots of other chances to win majors," added McIlroy. "There are three left this year and hopefully I will have a great chance in all of them.
"The Masters was a little speed bump but no more than that."
McIlroy, who played the first round in Malaysia with world number one Martin Kaymer, had not seen the course before but is confident that he will improve through the tournament.
"Now that I have seen the course once I will hopefully have more confidence and can start going a little lower," added the 21-year-old.
"The conditions here are very different than Augusta and considering I had not seen the course before then I think three under is a pretty good score."
McIlroy's round is thought to have included the longest drive of his career as he struck the ball more than 400 yards on the fifth hole.
"Probably," said the 21-year-old smirked when asked if it was the longest drive of his career.
"You don't say this too often but I was almost too close to the green on a par five."
McIlroy and Schwartzel travelled together to the tournament in a private jet but the golf clubs of both players were lost in transit during the journey.
Both sets turned up on Wednesday but not in time for Schwartzel, who had an early start on Thursday, to practice with them.
"It would have been nice to be here a day earlier to prepare a little bit better," said the newly-crowned Masters champion, who started his round in Kuala Lumpur at the 10th. "But I didn't put myself completely out of it.
"If I can get out, go hit some balls and come out tomorrow and shoot a good score, I can still challenge for the title."
When asked if he could take any positives from his round, Schwartzel added: "The fact I didn't fall asleep.
"I didn't sleep much [on the journey]. It's difficult. I'm really struggling to focus, my golf swing is tight. My body is not responding right now."
Italian Matteo Manassero turns 18 next week and is hoping to celebrate with victory in Malaysia after shooting a six under 66 that included eight birdies.
"I holed a few nice 20-footers and was unlucky with my putts on six and seven which lipped out," said Manassero.
"I like the grainy greens - I feel like I can hit every putt solid and it gives me confidence putting. The heat wasn't easy, it was very warm."
Leader Noren admitted that he had been nervous going into the tournament after taking a short break from the game.
"I had two weeks off and I worked a lot harder on my game these two weeks than before," said the Swede. "I was really nervous going into this round.
"I started off holing a nice putt on 10, 11 and 12. My putter was great. After that my driver was steady then it was all about getting it close enough. I felt lucky at times when they kept rolling in but you have to have that sometimes. I holed a lot from six over seven metres."