Kevin Na sets unwanted PGA Tour record at Texas Open
Last updated on .From the section Golf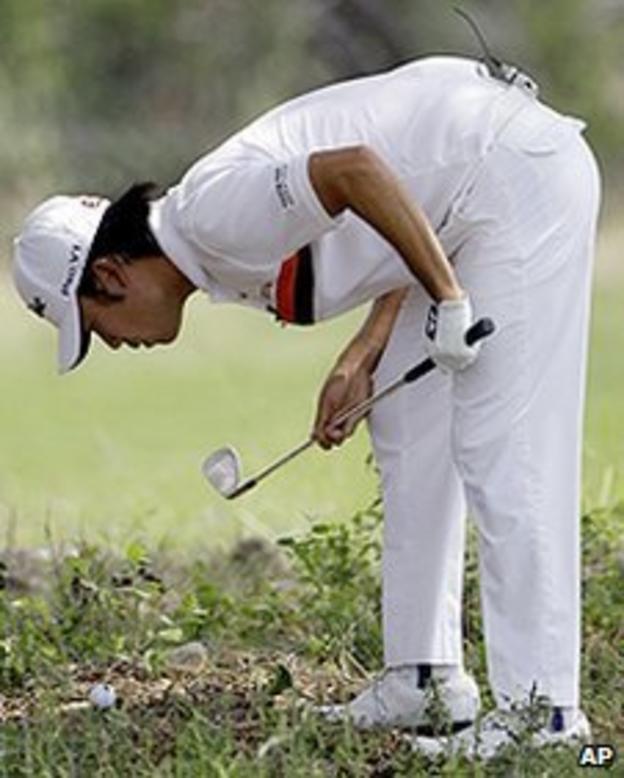 American Kevin Na set an unwanted PGA Tour record when he needed 16 shots on a par-four hole at the Texas Open.
The 27-year-old carded the 16 at the ninth - the highest score on a par four since PGA Tour records for scorecards began in 1983.
Na's first-round 80 leaves him on eight over, 13 strokes behind leaders JJ Henry and Stewart Cink.
"One bad hole can basically shoot you out of the tournament. That's what I just did," said Na.
Na's problems started when fired his tee shot into the woods at the 474 yard par-four ninth at the TPC San Antonio.
He found the ball and declared an unplayable lie and returned to the tee only to then hit deep right into the woods again.
His fourth shot hit a tree and the ball ricocheted onto his trouser leg, costing him a two shot penalty.
Na eventually hit six shots in the woods, trying to get out of the trees, before he finally found the rough and played from there to the fringe of the green.
He would have been one shot off the lead had he a achieved a par on the hole.
Na's agony was compunded by the fact he had agreed to wear a microphone for the Golf Channel during his round.
In a conversation after the hole, Na and his caddie were heard trying to decipher how many shots he had taken. The discussion went:
Caddie: "I have no idea what you have."
Na: "How are we going to count all the shots?"
Caddie: "I have no idea."
Na: "I can't keep track."
Caddie: "They have it on tape so they can go back and count it."
Na was also heard complaining about the number of rocks which provided him with obstacles after he missed the fairway, although he did see the funny side of his horror hole.
He added: "My hand is numb, I hit so many rocks in there. Did you see how many rocks I hit? I have never hit that many rocks in my life."
He continued with a laugh: "I think I made somewhere between a 10 and a 15, but somewhere closer to a 15."
His caddie advised: "Next time I say 'let's go back to the tee', let's go back to the tee!"
Initially scored as a 15 then changed on review, the score is one of the worst on the PGA Tour, with only John Daly's 18 on a par five during the 1998 Bay Hill Invitational higher since 1983.
"I wish I went back and re-teed it again and I might have made eight," added Na. "That's four over. That's what, even par or something?
"I mean it's a lot of what ifs and what could have beens. The only thing I can do is learn from this and hopefully it doesn't happen again."
But Na recovered to score three under in the final nine holes and was pleased with how he bounced back.
"I feel like I'm playing somewhat decent and it was one shot - actually two, but one that started the whole thing and it was one bad hole and that's what's crazy about this game," he told the PGA Tour website.
"One bad hole can basically shoot you out of the tournament. That's what I just did.
"I think I handled myself pretty well. I hit a lot of good shots and didn't make another bogey afterwards. It just shows you how well I took it."
Watch Na's nightmare hole on the PGA Tour website.