Seve Ballesteros funeral takes place in Spain
Last updated on .From the section Golf
The funeral of golfing legend Seve Ballesteros took place in his Spanish home village of Pedrena on Wednesday.
Ryder Cup captains Nick Faldo, Colin Montgomerie, Sam Torrance and Jose Maria Olazabal were part of the procession led by the Ballesteros family to their local San Pedro church.
Ballesteros died on Saturday, aged 54, after a long battle with cancer.
He will be cremated at an undisclosed location in the village, with his ashes to be scattered at his home estate.
Hundreds of mourners applauded as the procession - headed by his children Javier, Miguel and Carmen - entered the church after a 10-minute walk from his house overlooking the Bay of Biscay.
Members of the local rowing club provided a guard of honour with raised oars - his father had been a rower and trainer at the lub which carries his name - and they passed houses which had Spain flags hanging from balconies embossed with black ribbons.
Children of the Seve Ballesteros Foundation carried three irons aloft to signify the club with which he started practising as a child.
The professional golfers in attendance passed wreaths of flowers at the gates of Ballesteros's house, and more at the entrance to the church where messages from the Spanish Royal family and government could be seen.
Spanish state television's images of the funeral service were shown on large screens in a square in the village, while Spain's secretary of state for sport Albert Soler, former cyclist Miguel Indurain and former Spain striker Emilio Butragueno were present.
Prior to his funeral, the Ballesteros family said: "Seve will be cremated at a ceremony that will be as intimate as possible and at a place that nobody will know.
"That was his express wish. His ashes will remain at his estate, at his home in Pedrena."
Seve's brother, Baldomero Ballesteros, was quoted as saying: "The funeral rites will be as simple as those for any neighbour from the village. He was born here and here he will remain."
Montgomerie, who captained Europe to Ryder Cup victory last year, said: "He was a legend here. It was a very sad and moving service.
"To see this local support is phenomenal. These aren't golfers here. They are just townspeople. He is hero to them, not just the golfing world."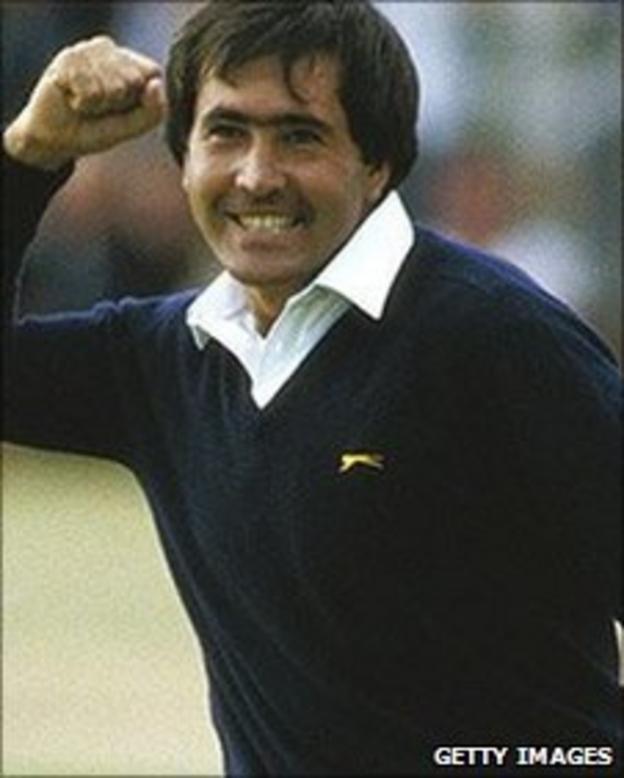 Billy Foster, Ballesteros's caddie between 1990 and 1995, said: "To kiss his urn, it's very final. It's tough to stomach. There will never be another Seve."
One of Ballesteros's great rivals in his prime, Nick Faldo, said: "He was a big part of my career. We shared lots of battles.
"It's very sad to lose him at this age, it's tragic. It's been great listening to all the stories."
Miguel Angel Revilla, head of the local Cantabria government, said the region will observe three days of official mourning.
Black ribbons were attached to the flagsticks during the pro-am competition ahead of the Majorca Open, the European Tour event which will start on Thursday.
And at the Players Championship in Florida this week, the Spanish flag will fly in honour of Ballesteros until Sunday.
Normally, the previous year's winner has his national flag flying over the Circle of Champions but the South African flag marking Tim Clark's victory last May has been replaced.
Former world number one Tiger Woods said: "I would loved to have played with him in his prime. He would have been so much fun to watch and compete against."
English golfer Tony Jacklin also added to the .
"He was Tiger Woods before Tiger Woods," he said. "He had it all.
"He was a one-man army and he was just as good off the course as he was on it. He was about the only one that I ran anything by in terms of pairings.
"I've only met two people in my life with such charisma. One was Arnold [Palmer] - and the other was Seve."
Jack Nicklaus, who retired with a record 18 major titles, said the world of golf had lost "a great entertainer and ambassador".
He added: "It was his creativity, his imagination, and his desire to compete that made him so popular not only in Europe but throughout American galleries, too."
Ballesteros, one of the most gifted players the sport has ever seen, won three Opens and two Masters in a career that had 87 tournament victories.
He played in eight Ryder Cups, winning 22½ points from 37 matches, as well as captaining the European side to victory in 1997.
His passing has been marked across the world of sport, with silences being held at the European Tour's Spanish Open and at the Wells Fargo Championship in America over the weekend.
South African Thomas Aiken dedicated his Spanish Open victory on Sunday to Ballesteros. He said: "He was everything to the game of golf and I am happy to have won for him - any of us would have won for him."
There was also a tribute before the Madrid Open tennis semi-final between Rafael Nadal and Roger Federer on Saturday, while the Barcelona and Espanyol football teams paid their respects to Ballesteros before their La Liga match on Sunday.