European Tour urged to honour Seve Ballesteros on logo
Last updated on .From the section Golf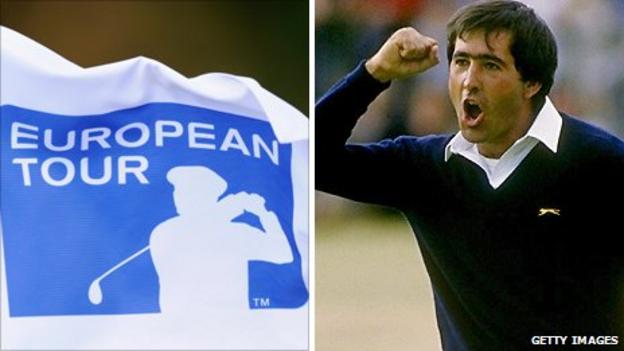 Sir Nick Faldo and Colin Montgomerie want the European Tour to change its logo to an image of Seve Ballesteros, who died on 7 May.
The current logo features a silhouette of Harry Vardon, a record six-time Open winner between 1896 and 1914.
In a remark aimed at European Tour chief executive George O'Grady, Faldo said: "George, come on. We're not 110-year-old golfers.
"I think they would have a very difficult time not changing the logo."
Faldo and Montgomerie were among fellow former Ryder Cup captains Ian Woosnam, Sam Torrance, Bernard Gallacher and current skipper Jose Maria Olazabal to attend Ballesteros's funeral on Wednesday.
Ballesteros won the Open in 1979, 1984 and 1988. In 1980 he became the first European to win the Masters at Augusta and he earned a second Green Jacket in 1983.
That victory in 1984 was one of his most famous and a picture of him (above) after his closing putt is one of his most enduring images. A photograph of it was placed alongside the urn carrying his ashes for the service in his home village at the church of San Pedro de Pedrena.
"There will never be another Seve," added 53-year-old Faldo, who won six majors and was world number one during his playing career.
"He had everything - the good looks, the charisma, the smile, the walk and the swashbuckling golf game.
"We shared lots of battles and it's tragic. We would have been mates and we've lost out on that.
"We always had mutual respect, but we never realised the level of feelings that we had for each other."
Montgomerie added: "I think that we should be honouring Seve in a golden way like that so that every player, official, supporter and every letterhead and correspondence that comes from the European Tour carries the image of Seve and honouring him.
"He was the Godfather of our European Tour, he is the reason that we are in the enviable position that we are in today and I think it is right that we should honour him in that way."
Montgomerie said the Tour must now "celebrate" Ballesteros's life.
"It has been an emotional week but I think that Seve would want us all to play on and keep going for his sake and for all our sakes," Montgomerie said.
"I think we have to now celebrate the life of Seve Ballesteros in every way. He was such a great talent and a great man."