Martin Kaymer credits Padraig Harrington for Euro surge
Last updated on .From the section Golf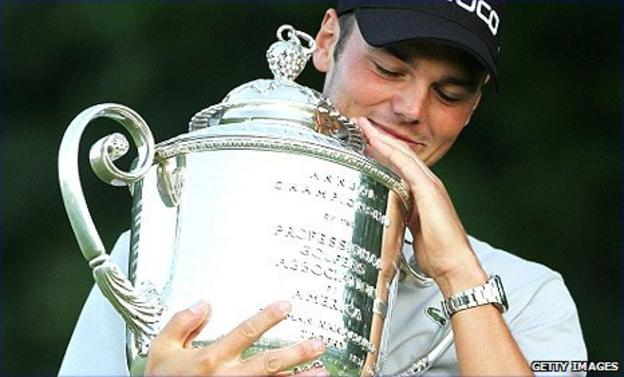 World number three Martin Kaymer has credited Padraig Harrington for sparking the recent success of golfers based on the European Tour.
Six of the current world's top 10 are European and the last four majors have been won by European Tour members.
"He [Harrington] won two in 2008 - which was an unbelievable achievement - and I think everything started with him," said Kaymer.
German Kaymer opened his major account at last year's US PGA Championship.
That followed Graeme McDowell's US Open win and Louis Oosthuizen's Open Championship triumph, and the run of major successes for European Tour members was maintained by Charl Schwartzel's Masters victory last month.
Kaymer pinpoints Harrington's Open win in 2007 and back-to-back major triumphs a year later at Royal Birkdale and the USPGA Championship as the victories that gave this batch of European-based players the belief they could take on the world.
Speaking ahead of the BMW-PGA Championship at Wentworth, Kaymer said: "When I came on Tour there were a lot of guys I was impressed with and Harrington was definitely one of them.
"When Graeme McDowell won the US Open, then in the next major Rory McIlroy all of a sudden was up there and Graeme showed him he could do it.
"It gives you motivation. It gives you the belief that it is not always about Tiger Woods. I said when Padraig won and when Graeme won that it is about other people as well.
"There are 20, 30, 40 guys who can win majors these days and we are very fortunate to have a lot of Europeans up there."
Kaymer was world number one for eight weeks earlier this year before Lee Westwood returned to the top of the rankings.
The 26-year-old could go back to the number one this week depending on results, while Luke Donald could also take the top spot.
"The expectations were very high on me after becoming number one," added Kaymer.
"There are a lot of major champions who didn't win another major but being number one the expectation is that you will win every week.
"If you don't win it is 'what happened?' That is tough to satisfy people and the German media were expecting me to win every week.
"It was not easy but people who know the game know that you can't win every week. That is why it is impressive what Tiger did for many years to stay up there without losing that spot."