'Cheat' tag will stick, says Elliot Saltman
Last updated on .From the section Golf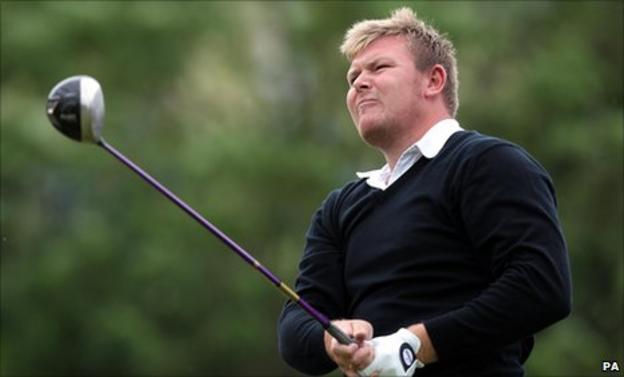 Elliot Saltman admits the stigma of cheating will dog him for the rest of his golfing career.
But the Scot believes he has the mental strength to cope and says his recent promising form has shown he belongs on the European Tour stage.
"I know it will die down, but it will be with me for the rest of the game," said Saltman in reference to his ban for marking his ball incorrectly.
"I can take it on the chin, but the downside is that people won't let go."
The European Tour suspended the 29-year-old for three months in January for the offence during the first round of the Russian Challenge Cup in 2010.
Having won a place on the Tour, via the Qualifying School final in December, Saltman missed a small chunk of the season and this week's Italian Open is his sixth tournament since he returned to playing.
His confidence has been boosted by a 12th-place finish at the Wales Open, which featured a remarkable two holes in one.
"I view the last few months as a bump and I've overcome it now," added Saltman.
"I don't think I'll ever get the chance to clear my name, but in my mind I'm a strong enough person to know deep down that I didn't do anything wrong.
"I've played golf from a very young age and competed at all levels and never once have I cheated. It's just not me at all.
"A lot of the pros have been absolutely brilliant and welcomed me back. Outside golf, people have their own thoughts on what happened, but I know the truth. I know what went wrong.
"I don't live in the past. I always live for the present and the future - and right now I'm in a place that I want to be.
"I've proved to myself that I am on the right stage. I do belong here and I can compete at this level."
* Elliot Saltman was talking on BBC Radio Scotland's The Golf Show.