US Open: Rory McIlroy says Congressional suits his game
Last updated on .From the section Golf
Rory McIlroy believes this week's US Open venue Congressional will play to his game's strengths.
McIlroy spent last Wednesday and Thursday practising at the Maryland course, which meant that he delayed his arrival this week until Tuesday.
"The greens are going to get quite firm so you are going to have to hit it quite high," said McIlroy.
"My game is in really good shape. I'm not going to come out and say 'it's OK'. I feel pretty confident."
McIlroy's preparations for this season's second major are similar to his build-up for the Masters, when he led after 63 holes before imploding on the back nine.
He was the last player to sign in at Augusta and he is again restricting his practice time during this major week.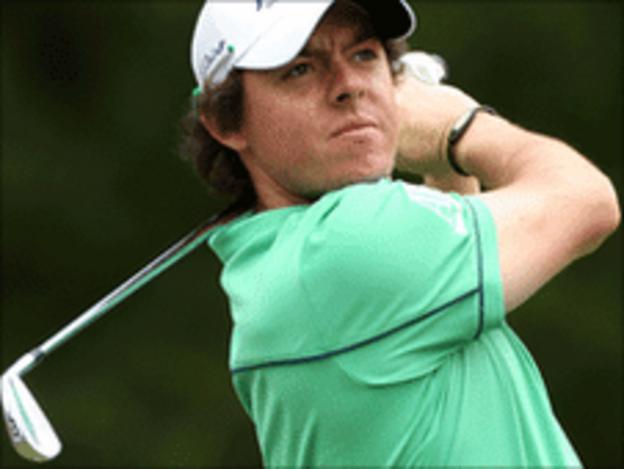 "I feel as if I've done my preparations the week before," he added.
"I came here Wednesday and Thursday last week and got a good look at the course.
"Major championships weeks are very long. You are better getting in pretty late and conserving your energy for all the four rounds you do play.
"If you get here on a Saturday or Sunday, it can turn into a very long week."
McIlroy is optimistic that the knowledge gleaned from his chastening Masters experience will help him this week.
"If I get myself into position like that again, hopefully I'll have learned from it and the outcome will be slightly different," he commented.
"A lot of questions will be asked of me if I get myself into that position again - not just me but from other people too.
"People are going to question you until you actually do it.
"But I'm playing really good.
"I feel as though I'm playing very similarly to the way I went into Augusta.
"A big positive for me at Memorial was that I putted so well.
"If I can hit it well and start holing a few putts, I feel as though I'll be right up there on Sunday."
McIlroy also said he goes into the week with something of a new perspective on life after his recent visit in his Unicef ambassadorial role to earthquake-hit Haiti.
"It was tough to see some of the things they go through," he said.
"If I can raise a little bit of awareness then my job is accomplished but it was great for me to go down there as well.
"It makes me realise that golf isn't such an important thing or as important as I make it out to be sometimes.
"The next time I'm struggling on the golf course and not having a great day, I just have to think about the people of Haiti."