Carly Booth on track after taxing start to pro life
Last updated on .From the section Golf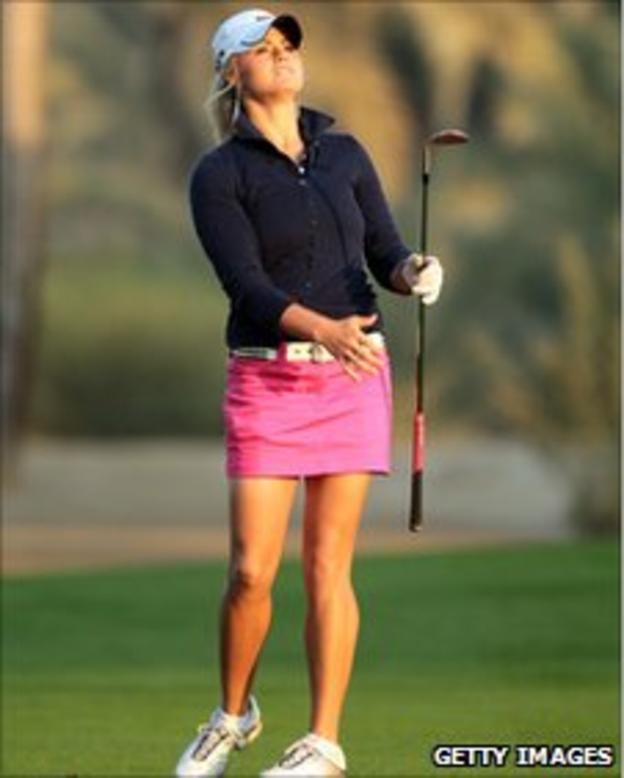 Carly Booth admits the transition to professional golf has been tougher than she had imagined.
The 19-year-old Scot had a glittering amateur career but is yet to manage a top 10 finish on the Ladies European Tour since turning pro last season.
"It was a lot harder than I thought it was going to be, the whole tour life," Booth explained.
"The standard is just four times as good, it's definitely a lot to take in but I'm on the right track."
Booth was tipped for stardom from an early age and made her bow in a senior event as a 14-year-old, finishing 13th at the 2007 Ladies Scottish Open.
The following year, she became the youngest player to represent Great Britain & Ireland in the Curtis Cup.
In her rookie year as a professional, Booth juggled professional golf with school work and found the mix difficult.
"It was a complete learning experience," she told BBC Radio Scotland's Golf Show. "It was hard trying to balance out finishing my schooling with golf.
"My preparation was pretty poor. I went to a few tournaments without even a practice round.
"This year I'm seeing improvements mentally and it's all coming together quite nicely.
"I've been able to focus completely on my game, work on what really needs to be worked on, prepare better and try to find my feet."
Booth's best finish this season has been a 21st place at the Deloitte Dutch Ladies.
Although the teenager from Comrie admits life on the Tour can be "a bit of a grind", she has been busy honing the skills that made her the youngest ladies' club champion in Britain at the age of 11 at Dunblane New.
"You can never practice enough, especially the short game," she said. "That's the main difference between the amateur and professional game.
"A good amateur can strike the ball just as well as a top professional but it's that 100 yards and in that makes all the difference."
Booth one day would like to test herself in the United States but for now is only concentrating on making her mark in Europe.
"My plan is to go out there eventually but my aim is to find my feet on the European Tour, closer to home," she added.
"Once I'm feeling comfortable and maybe won a tournament or two, then it might be time for me to try."