Graeme McDowell in call for Open to return to Portrush
Last updated on .From the section Golf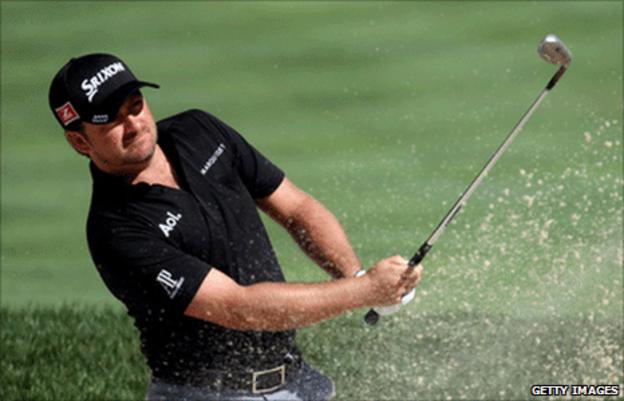 Graeme McDowell wants the Open to return to his home town of Portrush after a gap of 60 years.
The man Rory McIlroy succeeded as US Open champion was speaking after receiving an honorary degree from the University of Ulster on Tuesday.
"Rory and I would be behind a NI event with the potential of then getting the Open back to Portrush," he said.
"To play the Open in Portrush is a wild dream, to play a European Tour event in Portrush is an achievable dream."
He added: "I will do everything I can to make it happen."
The remarkable back-to-back US Open victories by Northern Ireland golfers have prompted renewed calls for the Open to return - it was last played at Royal Portrush in 1951.
Concerns have been previously raised about the area's infrastructure and whether it could cope with hosting such a large event.
As he rose to address fellow graduates at the university's campus in Coleraine - only a few miles from Portrush - McDowell admitted he was more nervous than he was during the closing stages of the 2010 US Open, or in the crucial final singles match at last year's Ryder Cup.
"Take me outside of my comfort zone, off the golf course, I've hit a couple of pretty important shots in my career last year but nothing really close to how I feel right now," he said.
McDowell urged to the young audience to set high goals in life, but ensure they had some fun along the way.
"I've been very lucky," said the 31-year-old, who turned pro before he could complete a degree in mechanical engineering at the University of Alabama.
"I've been fortunate in my career, I've had a lot of good breaks, made a lot of good decisions and holed a couple of good putts at the right time, so it's been an amazing experience."
Reflecting on Northern Ireland's US Open successes, McDowell said there was something a "little bit special" about his homeland.
"To have back-to-back US Open champions to come from a small country of Northern Ireland - 1.6 million people, whatever we have - I think the odds of that are pretty astronomical," he said.
"It really says something about the type of people we build here in Northern Ireland."