Golf great Jack Nicklaus feels at home in Scotland
Last updated on .From the section Golf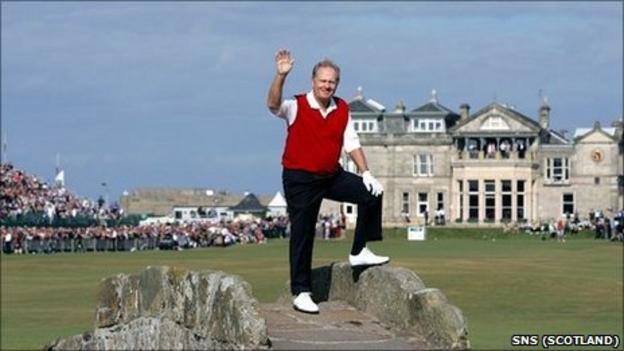 Golfing great Jack Nicklaus has stated his fondness of Scotland and revealed that he has not played a proper round since retiring at St Andrews in 2005.
"I always felt like Scotland has been where it is for me," said Nicklaus, 71, at Gleneagles earlier this week.
"Since I came here people have treated me like I was one of their own. It's a great feeling, it's like coming home.
"St Andrews is where I chose to end my career. I have not really had a score since then."
Nicklaus was in Scotland in his role as a golfing ambassador and explained that, since he took his final bow on the 18th hole at The Open on the Old Course, he has not felt the urge to complete a full round.
"I have played, obviously, but I have never really played a round of golf where I have putted out and counted the score," he added.
"I haven't done that for six years now.
"Winning at St Andrews, winning at Muirfield, coming very close at Troon, Turnberry and Carnoustie - I always played pretty well.
"I played pretty well in England but I never won. But when I come back to Scotland it's a little different feeling for me.
"People ask why I didn't come back to St Andrews last year. I say, 'Well, I have been there, done that. I didn't want to spoil the moment.'
"It had been such a great moment in 2005, why would I want to go back out on the golf course again? It didn't make any sense.
"Maybe some day I can do that again but right now I just don't want to do that."
A winner of 18 majors, Nicklaus failed to make the cut in that final event but was nevertheless proud of his score for his last 18 holes.
"I hit 72 in my last round, which is a pretty good round of golf, to shoot even-par," said the American.
"I birdied the first hole of major championship golf I played when I was 17 and I birdied the last when I was 65.
"It was very, very special."
Listen to Jack Nicklaus' memories of St Andrews and commentary of his final round on The Golf Show on the BBC iPlayer.