Open 2011: 2003 champion Ben Curtis returns to Sandwich
By Peter Scrivener
BBC Sport
Last updated on .From the section Golf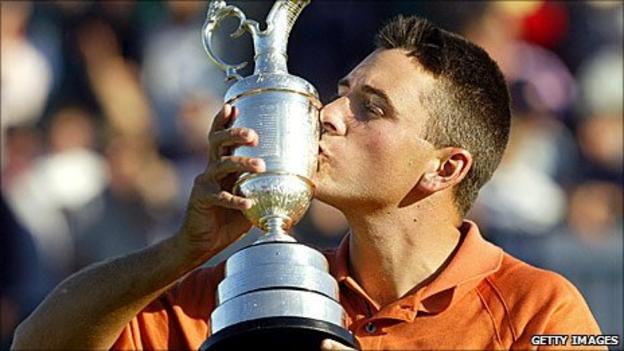 Like many club golfers, US Open champion Rory McIlroy has been using his own back garden as a practice facility in recent weeks.
It is a far cry from the preparation of the oft-forgotten former champion Ben Curtis, who won the Open on its last visit to the Kent coast in 2003.
The then 26-year-old American, who had a world ranking of 396 going into the tournament, conceded he "came out of nowhere" to win at Sandwich after turning up for his first major without a caddie, or even a round of golf on a links course under his belt.
"It's a very special place to come back to," said the softly spoken 34-year-old, who recently returned to Royal St George's to replay the final three holes of his dramatic one-shot victory over Thomas Bjorn.
"I love links golf but I don't get much chance to play. It's still fun even if I'm not playing well because you get to use every club in the bag."
Curtis, who had only qualified two weeks prior to the 2003 Open, was famously the first player to arrive at the course and was hooked up with local Maidstone caddie Andy Sutton.
The pair "hit it off" on the Saturday before the Championship.
Curtis added: "He had the same sense of humour as me and the same outlook on golf.
"I told him to just tell me where to hit it, not where not to hit it."
The tactic worked and by halfway the pair were tied for fourth after two 72s. A third-round 70 took them up to third, two strokes behind Bjorn.
With four holes to play, the Dane had a three-shot lead and one hand on the Claret Jug.
But Bjorn bogeyed the 15th, and on the tee of the par-three 16th he pushed his tee shot away from the line given to him by caddie Billy Foster and saw the ball splash into a greenside bunker.
Bjorn infamously took three to escape from the sand and walked off with a double-bogey five, as comparisons with Jean van de Velde's Carnoustie catastrophe in 1999 were being written.
He also bogeyed the 17th and then failed to secure the birdie he needed on the last to force a play-off with Curtis, who had the clubhouse lead at one under.
"Everyone remembers the last few holes," said Curtis, back on the 16th tee again as a couple of elderly golfers teed off in front of him, blissfully unaware they had an Open champion in their midst.
"It was a fantastic finish. It was the toughest pin of the week on the 16th - back right of the green.
"It was the easiest to get to but the most penal if you missed. You wouldn't be disappointed with a three every day."
Watching Curtis line up a putt on the 16th, it was easy to see how the Dane had left his ball in the sand, twice.
Even Curtis, who made his first return to Sandwich in October 2010, said: "I didn't remember the 16th being like that. I didn't realise the bunkers were so raised but I guess eight years can cloud your judgement."
Many people forget that the American, who had raced to five under after 11 holes, also endured a back nine to forget, shipping shots on the 12th, 14th and 15th. He parred the 16th but three-putted the 17th for a fourth bogey in six holes.
"I thought it was over unless I made a birdie on the 18th," admitted Curtis, who became the first golfer since Francis Ouimet at the 1913 US Open to win a major at the first attempt.
"When I got on the 18th tee, I could see the clock in the distance and it was almost exactly the same time as the Sunday before when my caddie had said to me: 'If we're here this time next week, we've had a great week'.
"I thought even if I didn't win, at least I had been in with a chance.
"I was putting on the 18th when Thomas was blowing up on the 16th. What did help was big names behind me such as Tiger Woods, Davis Love III and Vijay Singh were falling away."
Curtis's putt for par was a daunting 10-footer, but he drained it, ending up as the only man that week to break par.
"At the time I thought the putt would be for second or third place, not to win the Open," he said. "I was thinking 'secure your place at next year's Open'."
As we all know, Curtis did slightly better than that and he will receive an invite every year until his 65th birthday, which is perhaps just as well because he missed the cut at the next three Opens.
However, he showed his links pedigree at Carnoustie in 2007, finishing tied eighth, and was joint seventh at Royal Birkdale a year later. He has missed the last two cuts as well, but Curtis does not feel he needs to win another major to disprove any suggestion that his sole triumph was a fluke.
"As long as I believe in myself it doesn't matter what everyone else believes," said the 2003 PGA rookie of the year, who has amassed more than $10m (£6.2m) on the US Tour.
"Financially it helped out, but I haven't changed as a person. I've always been a family man."
As for his preparation for this year? It appears as though there will be no visit to McIlroy's back yard.
"I'm going to treat the weekend like any other major and get in the weekend before," Curtis smiled.