Early risers stake claim for Scottish Open
By Liam McLeod
BBC Scotland at the Scottish Open
Last updated on .From the section Golf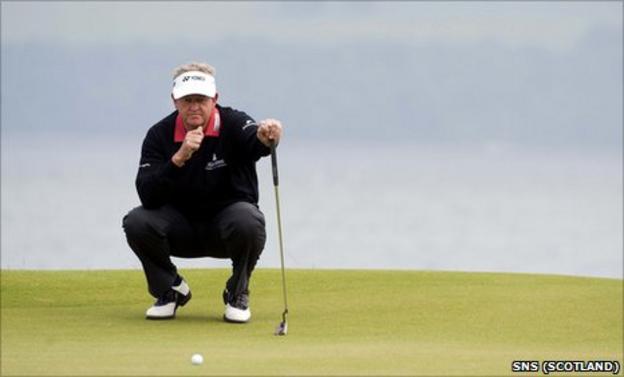 It was a pleasant surprise to arrive at Castle Stuart at 0630 BST on Thursday to discover the calm after the storm.
Wednesday's gales and torrential rain were replaced by the sun doing its best to creep through the Highland skies ahead of the first round of the Scottish Open.
One thing was for sure, with the rain forecast to return, those out early had a chance for some low scoring.
The nature of links golf means that the weather plays as integral a role as the players themselves.
I elected for an early start myself and the match featuring Colin Montgomerie and two of his Ryder Cup charges, current world number one Luke Donald and Sweden's Peter Hansen.
Any lingering doubts that crowds would not be as good as at this venue's predecessor Loch Lomond must have been allayed quickly because there were swathes of people checking this one out.
You always know when it's busy at the golf when not even the most painful of neck craning helps you see the players' strokes.
Starting on the back nine, the first half of this round was not going the way many envisaged.
Monty knocked in a birdie on his first hole and did so twice again before the turn. However, Donald was taking a while to get into his stride. On the 18th, the Scot had his chest puffed out and a big grin on his face.
It seems unfair to say he was rolling back the years but that is something he has to do to get that top five finish, though he may actually have to win this thing to make next week's Open.
The next nine were a mixed bag for the winning Ryder Cup captain with an eagle three at the second though a bogey at the last annoyed him.
Montgomerie finished with a five under 67, which is good, is it not?
"Not at all, not at all, I'm disappointed," he said. "I played as well as I have for a long time and bogeyed the two easy holes on the course, the third that everyone's birdying and the ninth hole that everyone's birdying.
"So, I'm disappointed to finish that way. I came here for a reason, to gain as many world ranking points and Race to Dubai, but also to get into the Open Championship.
"I was driven on by playing with the number one (Donald) and Peter Hanson who I respect."
No matter his ire, he is right. His playing partners did drive him on. Donald came good eventually to also finish on five under.
"It was nice to finish as strongly as I did," he said. "It's a course where you feel like you have quite a few opportunities like I did on my first nine holes, but I stayed patient and made some birdies coming in.
"It's a new course. I only played it for the first time yesterday but I think it's been consistent, the wind direction, so that's helped quicken up that learning process.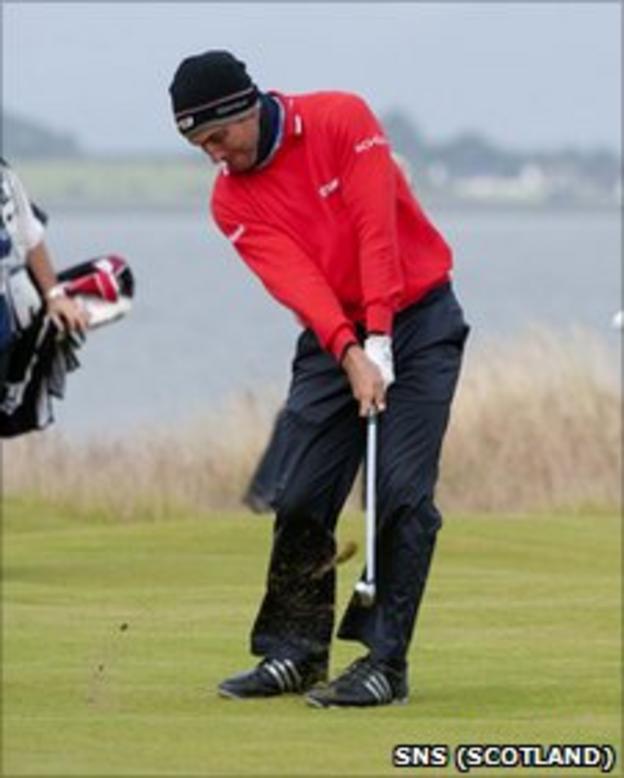 "Today the weather was pretty good, there's enough breeze to make it interesting."
One man who is disappointed the Scottish Open moved north to Inverness is the defending champion Edoardo Molinari who trumphed at Loch Lomond last year.
He also joined the five-under party with a solid start.
"I guess the only advantage you have when you defend a title is to play on the course you won on and unfortunately it's a new venue this year," the Italian said.
"But, it's a fantastic place to play golf because you're right above the sea on some holes, along the seaside. The fairways are generous but still you have to hit good shots to shoot under par.
"Last year was great for me after winning at Loch Lomond, I also won at Gleneagles and there was the Ryder Cup so hopefully Scotland will inspire me again.
"I think, with the Open next week, playing a links course this week - and even if Loch Lomond was my favourite course on the schedule, it's good to be here at Castle Stuart and hopefully this place will be my next favourite at the end of the week."
The forecast may not be great for the next three days of the championship so in the words of the world number one, it will be interesting.