Home golfers make Scottish Open surge
By Liam McLeod
BBC Scotland at the Scottish Open
Last updated on .From the section Golf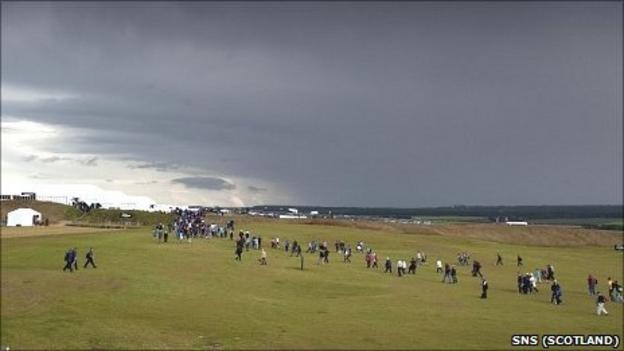 In the recent past, Scottish golf has cast envious glances across the Irish Sea.
Rory McIlroy and, before him, Graeme McDowell sealing back-to-back US Open titles for Northern Ireland underlined that.
The question is often asked beforehand as to whether a Scotsman can win his home tournament with the positive answers given in hope rather than expectation.
However, a glance at the leaderboard makes very promising reading for not just the home fans swirling around Castle Stuart, but for the future of Scottish golf.
Peter Whiteford and Scott Jamieson - who at one point held a four-stroke advantage - are mixing it with McDowell at the top of the leaderboard.
To those who follow the tour, it will come as no surprise that those two are up there, given their consistency this year.
Of course, the fantastic Friday morning conditions helped with the low scoring as they burned up the links, though Jamieson double bogeyed his penultimate hole.
But with Martin Laird and Paul Lawrie claiming titles on the same day in the spring and with Jamieson playing well in his first year on the European Tour, hopes are slowly rising.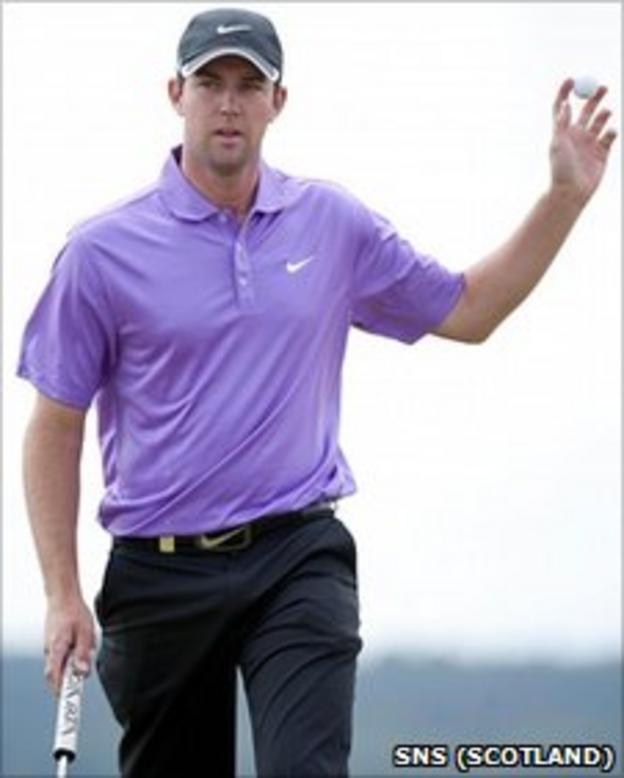 "It was a disappointment at the end, I hit the wrong club there but I'm delighted to be in this position," Jamieson told BBC Scotland.
"I had a bogey at the first again but made five birdies in a row which got me going, it was just really that blip at the end.
"I've had a couple of tournaments this year where I've gone out with high-profile players in the last group which is definitely different, but it's exciting, it's why I wanted to play this game.
"Winning's not something you can control, you just need to concentrate on your own game and that's what I'll be trying to do over the next two days."
Whiteford, by comparison, went about his business in a less spectacular way but, like Jamieson, shot a six-under par 66 to join the Glaswegian on 11-under.
So, with the St Andrews cross adorning the leaderboard, is Scottish golf really in the doldrums? Whiteford cited the example of his 27-year-old leaderboard compatriot to suggest it is not.
"I think in any country, you get spells of good players coming through and spells of guys that pickle," Whiteford said.
"I've been out here for years and I'm not exactly a new face. Scott is the guy. I mean, his first year out here and what he's doing, in my opinion, is phenomenal.
"He has not seen the golf course, every week is a new week to him. At least this is my third year on the tour, so a lot more credit goes to him and what he's doing every week."
Whiteford also has his first major to look forward to at next week's Open Championship at Sandwich.
"It's great, it's phenomenal, it's my first major and all the rest," he said.
"I wasn't in the schedule at the start of the year for guys like me. Obviously I try and qualify every year but I'm not very good at qualifiers.
"It's my first time playing it and I will try to cherish the sort of experience I'll gain from it and hopefully be back.
"It's my third year out here so I know the golf courses and I know the faces. It's not as daunting as it might have been; I guess I'm feeling a bit more at home here."
If Whiteford and Jamieson were on fire, the 1999 Open champion Paul Lawrie was even hotter, joining McDowell in breaking the course record with an eight-under par 64, which more than made up for a first round 71.
Of course, the record was always going to be broken several times this week, given it is the first real chance the professionals have been able to have a crack at it.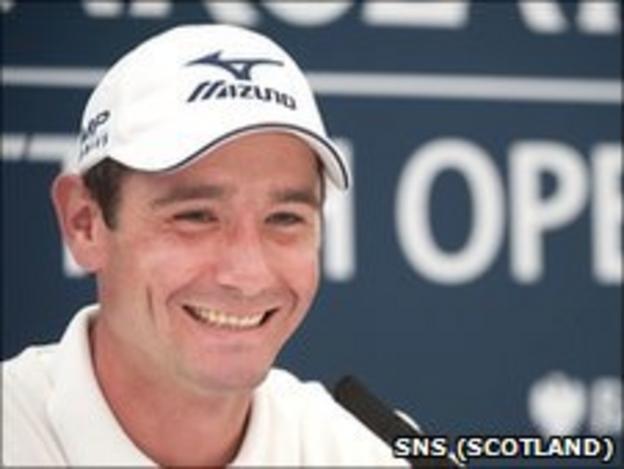 Lawrie, who won the Open de Andalucia in March as US-based Laird triumphed at the Arnold Palmer Invitational, is nicely placed for the weekend, just two strokes off the lead.
"It's great to see the saltire flags on the leaderboard," Lawrie said. "Scott Jamieson has been playing great for his first year on the tour.
"He's doing extremely well - he's a nice lad, works hard, so it's good to see the Scottish guys coming through.
"It's a great course, who couldn't like it? The trouble is, it's links golf. When it's calm, people are going to shoot the kind of scores we've seen.
"But, tomorrow it could be howling a gale, pouring rain and level par is a good score. But I imagine if it stays calm, scoring will be pretty low but we'll see what happens."
Not long after Lawrie uttered those words a weather warning was put in place which preceded a two-hour suspension of play.
Despite the horrendous dark cloud, torrential rain and lightning, the sun is smiling on the Scots who are challenging for the title.