Open 2011: Nicklaus plays down Rory McIlroy Open hype
Last updated on .From the section Golf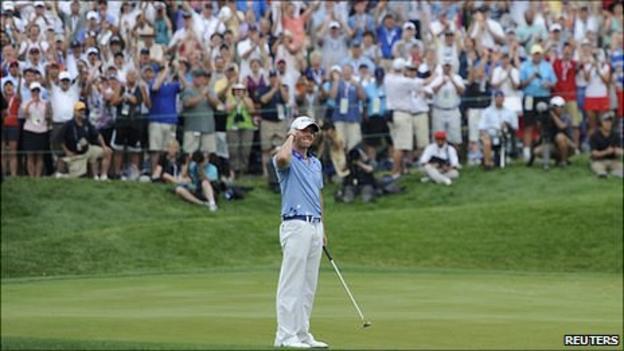 Golf legend Jack Nicklaus has played down the hype surrounding Rory McIlroy ahead of the Open Championship at Sandwich, which begins on Thursday.
McIlroy won the US Open in June, his first major, but Nicklaus - who won 18 - warned against putting too much pressure on the 22-year-old.
"Don't anoint him the crown prince just yet," Nicklaus told BBC Radio 5 live. "He has only just won his first major.
"When he wins two, three or four you can say this is the guy to watch."
Speaking on the Sportsweek programme, Nicklaus added: "Until that day comes he is just one of a number of very talented players."
But Nicklaus believes McIlroy's success at the US Open will not be his only victory in a major.
"I think Rory will win many majors. He is a very talented player," added the 71-year-old American.
"Good gracious, if you look back over the past year, realistically he could have won the Masters and the US Open.
"Last year he could have won the Open. He is a talented young man who we are going to see on the scene for a very long time."
McIlroy chose to take three weeks off from competition following his US Open victory, a decision that has been questionned by the Northern Irishman's 2010 Ryder Cup captain Colin Montgomerie.
However, McIlroy defended the move on his website, saying: "Some people may have wondered why I chose to go from one major straight to another without anything in between and the answer is simple.
"Because of what happened at Congressional and the way it became such a big deal [he was the youngest winner since Bobby Jones in 1923 and did it with a record score and by an eight-shot margin] I wanted to get everything out of the way and sorted so that when I did start playing again I could just concentrate on golf.
"If I had gone to France [he pulled out of last week's French Open] I just would not have been able to practise or prepare properly.
"Every time I play I want to go out there with a chance to win and that wouldn't have happened.
"There were so many commitments and so much media to do that I would have not been able to give my best, so I decided to wait until I was absolutely ready."
One player who will be missing from the Open is 14-time major winner Tiger Woods,
At one time Woods looked certain to overhaul Nicklaus's record haul of titles, but injury, a loss of form and personal problems have now made that look doubtful.
And Nicklaus himself is unsure whether his compatriot will surpass him.
"If he continues going the way it is going this year then yes, it is going to be difficult for Tiger to beat my record," said Nicklaus.
"He is determined to get back fit and he is young enough to play a lot of of good golf. I think we will see a lot from Tiger in the future but whether he will beat my record, it will be interesting to watch."
However, England's Ian Poulter believes that Woods is capable of returning to the top of the game.
"If Tiger comes back fit and healthy and is 50% as good as he was then he is still good enough to be world number one," said the world number 16. "If he comes back half as good then he is still good enough to win. I expect him to come back fit and healthy and play some very good golf."