The Open 2011: Mark Laskey confident before major debut
Last updated on .From the section Golf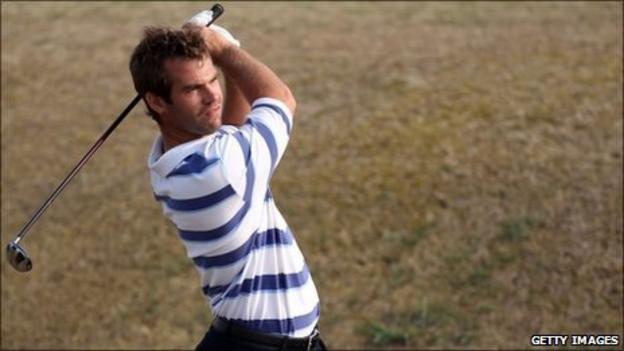 Mark Laskey often punches above his weight as a martial arts enthusiast and facing golf's big hitters will hold no fears for the ambitious Welshman.
The 26-year-old will make his Open Championship debut on Thursday, but he will not be short on confidence when he tees up at Royal St George's, Sandwich.
"I played some great golf to qualify," said the Challenge Tour professional.
"If I play the same this week there's no reason why I can't finish very high. I'm feeling good."
Laskey secured his place among golf's elite by grabbing one of the three spots on offer at a local final qualifying event at Rye in Kent at the end of June.
He edged out Inder Van Weerelt of the Netherlands in a play-off after finishing tied third in a field of 72, which included European Tour members Elliot Saltman and Jarmo Sandelin.
That performance ranks amongst one the finest of his fledgling career, but Laskey feels he has the game and temperament to create a bigger stir in one of golf's toughest challenges.
"I believe on my day I'm good enough to beat anyone otherwise there's no point playing really," said Laskey, one of only three Welshman at this year's Open.
"Obviously the first goal is to make the cut, and then get in contention and just push on at the weekend. Anything can happen, especially on a links course."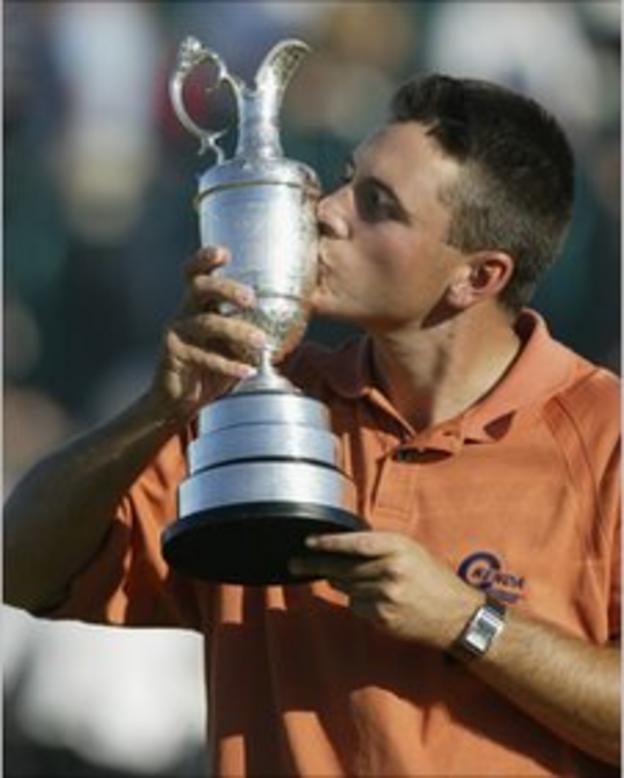 And if he wants any encouragement to cling onto that most treasured of sporting clichés, then Laskey has to look no further than the last time the Open visited Royal St George's.
Back in 2003, unheralded American Ben Curtis came from nowhere to win the Claret Judge - having arrived on the south east coast of England without a caddie or even a round of golf on a links course.
Curtis was an Open champion to once again prove that a strong mind is as important as a solid swing in major championships.
As Thomas Bjorn and Tiger Woods were fading behind him, he holed a 10-foot putt for par on his final hole - which proved to be the winning stroke.
And Laskey, who will have played five practice rounds at Royal St George's before his first round on Thursday, believes he will not be found wanting for mental toughness thanks to his martial arts training.
The Welwyn Garden City-based golfer practices Kempo Ju-Jitsu - a discipline, he says, whose benefits transfer well to the golf course.
"It definitely keeps you fit and flexible," said Laskey, who is attached to The Shire London Golf Club.
"You've got to be quite strong mentally as well. We do a lot of sparring and grappling on the ground, so it's a lot of mind over matter when you're fighting bigger guys than you.
"It's a good challenge; great to get away from golf - you need something to take your mind off it now and again. I'd recommend anyone to learn how to defend yourself."
Despite growing up in Hertfordshire, Laskey has represented Wales since the age of 14.
Both sets of grandparents are Welsh and a strong contingent of Welsh uncles and aunties will be supporting him in Sandwich this week.
"Wales has been very good to me," he said after completing his fourth practice round at Royal St George's on Tuesday.
"We had a lot of trips abroad and it was a great experience playing international golf.
"And when I turned professional, Ryder Cup Wales supported me with Challenge Tour invitations, which was a massive help. Now Elite Cymru and Sport Wales are giving me funding this year.
"That's so essential because it's such an expensive game. It's a massive help."
The draw for the first two rounds has been kind to Laskey, both in terms of playing partners and schedule.
One of his companions when he stands on the first tee at 1059 BST on Thursday is good friend Tom Shabolt, and Laskey believes the 1600 BST tee time on Friday will also be beneficial.
"The past few days, the wind has dropped around that time so it could be quite a little bonus we've got there," he said.
"And it's good to play with a great friend. It'll keep us relaxed and we tend to play well together. It's a pretty good draw we've got there.
"I'm ready for the challenge and can't wait to get out there."