Kent golfing pair gear up for big day at the Open
Last updated on .From the section Golf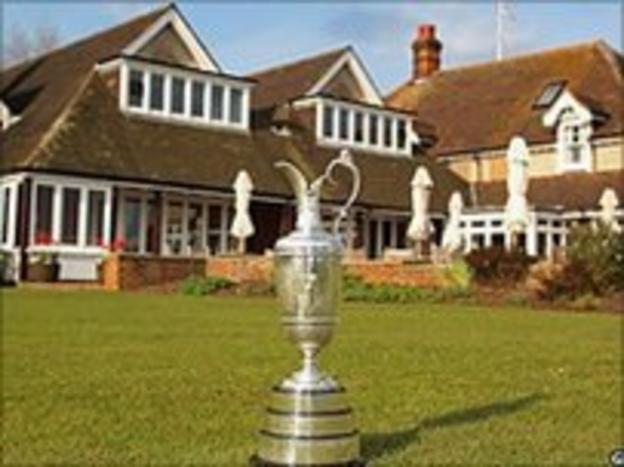 Two Kent golfers who have qualified for the Open at Sandwich have said they are staying calm as the tournament nears.
Francis McGuirk, who lives half a mile from Royal St George's, and Andy Smith from Maidstone both came through the qualifying stages.
McGuirk, 37, said: "It's not just one of the biggest events within golf, but within sport. It's brilliant."
Smith added: "I'll do my best. I hope I make the cut, my aim is top ten. Anything could happen. I'm 1000/1."
He added: "People are recognising me in the pro shop and the supermarket. People have seen me on the telly. It's a nice feeling.
"My game's in really good shape. I've just had some new clubs made for me. I've never felt this confident about my golf game before."
Smith, who won the qualifier at Littlestone, admits he is one of the least experienced players at Sandwich.
He said: "The only other highlight [of my career] would have been going to Spain to play European tour qualifying but I missed out on final qualifying by a shot. I haven't really done anything other than this.
"I don't get star struck. I say to myself: 'you deserve to be there'," he added.
McGuirk will hope local knowledge helps him at Royal St George's. His father owns the adjacent Prince's, where McGuirk qualified. However, he thinks that will count for nothing when he tees off on Thursday.
"It's going to be set up so differently to how it was whenever I have played there before. I don't really play there in the summer but it's in wonderful condition.
"This is by far the greatest achievement I have had in my career. As a young lad, you always want to play at the Open championship and I just hope I can enjoy it the best I can.
"Where I live you can see it day in, day out. Last week, I was there and it looked pretty much done but I went there the other day and they've done loads more. It's very busy."
"If I can make the cut that would be a wonderful achievement. If you don't get excited by that, you don't get excited about anything."