The Open 2011: Laskey & Shadbolt eager for Sandwich challenge
By Ged Scott
BBC Sport at Royal St George's
Last updated on .From the section Golf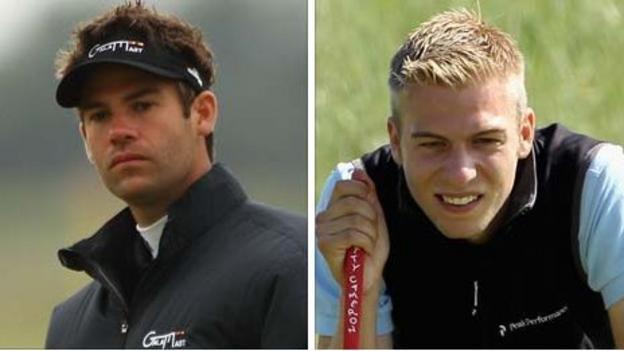 Welwyn Garden City duo Mark Laskey and Thomas Shadbolt are well-used to being playing partners having been brought up and reared in golf in the same town.
"I wouldn't have minded playing with a few bigger names," joked Shadbolt.
But fellow qualifier Laskey admitted: "Playing with someone I know so well could work out for both of us."
And the two Hertfordshire professionals are not the only twosome from Nick Faldo's old home town of Welwyn playing in their first Open at Royal St George's this week.
Amateur by being drawn with the most glitteringly adorned competitor in the field, five-times Open champion Tom Watson.
But Welwyn's other chosen two hope that being away from the limelight of the bigger galleries will help them perform.
"Playing with Mark we can treat it like we're having a little knock at home," said Welwyn-born Shadbolt, 23, now based at nearby Brocket Hall. "We can have a laugh and a joke and that should help."
Laskey, 26, who used to play at Brocket Hall before moving to The Shire, agreed, adding: "I've known Tom Shadbolt for years.
"We played together in the Sunningdale Foursomes, when we lost in the final," he told BBC Sport. "And, knowing there's always an element of luck in links golf, having played so much down here before and knowing each other as we do, that can only help."
As the wind gets up and the players prepare to do battle with a course as tough as any on the Open rota, Laskey, who is also an expert in jujitsu, at least knows he is fit enough for the fight.
"Martial arts keep you fit and flexible," he said. "It's very good cardio-vascular work and it takes your mind off things.
"There's a lot of sparring and grappling on the ground and it's important to know how to defend yourself, not that I hope I ever have to do that out on the golf course.
"In any case, having started at Welwyn Garden City - where Nick Faldo grew up, and then playing at Brocket Hall and now at The Shire - which is a very linksy-style course - I'm used to playing in the wind.
"I can't wait to get out there. I played here last Tuesday when it was quiet, which was good, and I've now played the course four times and am getting more used to some of the pin positions.
"There's only three spots now from each qualifying course, which makes it really tough but I played some great golf to qualify and am feeling high.
"On my day I'm good enough to beat anyone. It's just about believing."
Shadbolt, who received his golfing education at Mid Herts before becoming the pro at Brocket Hall, is equally confident.
"If I play as well as I did last week then the sky's the limit," he told BBC Sport.
"The crowds won't be round me but I hope they will be by Saturday and Sunday.
"I played the English Amateur here four years ago when the rough was thicker and the fairways narrower.
"I've played lot of golf round here and I feel at home."
Shadbolt might have been denied the chance to play with a big name - his other partner in their threesome (Game number 25, 1059 BST) is little-known Australian Rick Kulacz - but he did at least pair up with two of golf's more instantly recognisable figures in practice on Tuesday, 1995 Open champion, John Daly and Spanish Ryder Cup star Miguel Angel Jimenez.
"I had nine holes with Daly and Jimenez," he said. "I just wanted to see what they do differently.
"That's why I put myself down with these guys to see if I did belong here. And I feel as if I do.
"I played a few rounds with Chris Wood the year he did well. He showed any qualifier that they can go out and have a chance to win it. It's all about belief."