R&A to look again at taking Open back to Royal Portrush
Last updated on .From the section Golf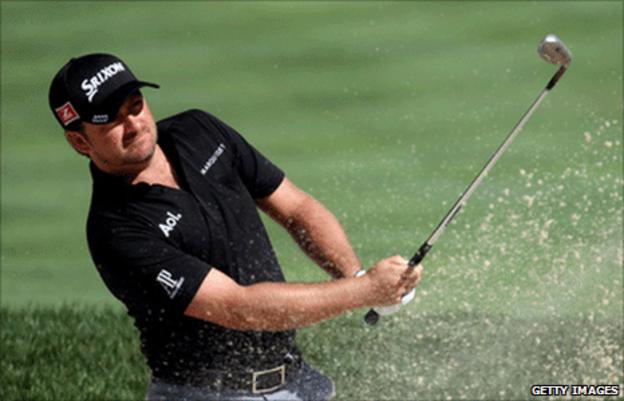 The Royal and Ancient is set to re-examine the possibility of bringing the Open back to Royal Portrush.
The US Open wins of Graeme McDowell and Rory McIlroy have prompted calls for the Open to return to Northern Ireland for the first time since 1951.
"It's something we'll have a look at again in view of the success of the golfers from that part of the world." said R&A chief executive Peter Dawson.
However, he added that a return was not "in any way imminent".
Max Faulkner triumphed in the last Open to be held at Royal Portrush 60 years ago.
"Obviously there's much emotion about Graeme McDowell and Rory McIlroy's victories and why don't we go back to Northern Ireland and perhaps Portrush in particular, and I understand that," Dawson said in the R&A's pre-tournament press conference at Royal St George's.
"You can't, however, base where you hold The Open on where players come from. I think that should be obvious to anyone.
"Portrush is a terrific golf course (and) may well be strong enough for an Open, but as we all know, there are other issues of infrastructure, accommodation, roads, what would the commercial success or otherwise of the championship be, that need consideration.
"(We are) not ruling it out by any stretch of the imagination, but it would have to meet all those criteria.
In 2007, then R&A director of championships David Hill admitted it would require an "amazing amount" of investment to consider taking the Open back to Portrush.
"Royal Portrush is a fantastic course and I looked at it in great detail about five or six years ago," Hill said at the time. "It would be a fantastic venue, but only for about 15,000 people a day.
"The Seniors Open was at Portrush and with 6,000 people we were struggling - it's jammed with normal holidaymakers as it is."
McDowell has led recent calls for the Open to return to his home town of Portrush.
"Rory and I would be behind a NI event with the potential of then getting the Open back to Portrush," he said last month.
"To play the Open in Portrush is a wild dream, to play a European Tour event in Portrush is an achievable dream.
"I will do everything I can to make it happen."