The Open 2011: Fisher makes sound Sandwich start
By Ged Scott
BBC Sport at Royal St George's
Last updated on .From the section Golf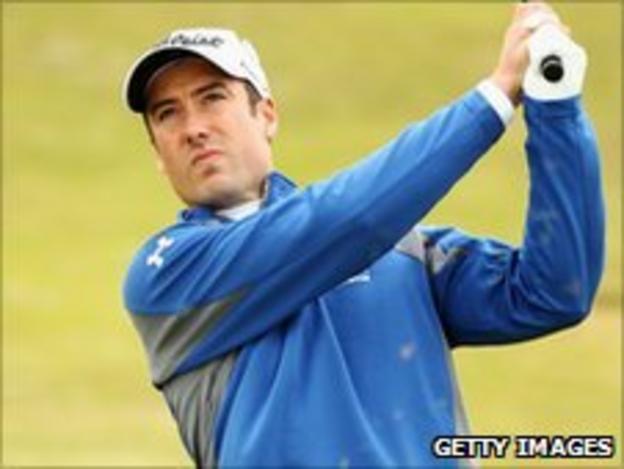 Surrey's Ross Fisher was fairly happy with a solid 71 at the 140th Open Championship at Sandwich.
That puts the Ryder Cup player on one over, just six shots off the lead - and he insists there is a long way to go.
"One over is not disastrous," he said. "You can't win it on the first day, but you can definitely lose it."
Francis McGuirk, who plays next door at Prince's, was further back after a seven-over 77, while fellow Kent golfer Andy Smith slumped to an 81.
"Because we were out in the second last group and there were no people out there, it was like we playing in another tournament," Smith told BBC Kent.
"But the feeling of playing my first tee shot at an Open, I could not put words on that, especially when it went straight down the middle."
Smith's card was littered with seven bogeys and two doubles - at the short 11th and the long 14th, but he remains positive about his chances when he returns for his second round at 1059 BST on Friday morning.
"I'm convinced there's an eight under in me," he said. "And I think that's what it will take to make the cut.
"But I can't be disappointed, I've just played my first round in the Open."
Fellow Man of Kent McGuirk is also convinced that he can improve.
"I could have shaved a few off that," he told BBC Sport. "Tomorrow should be a little easier for me, having got used to how tournament courses are set up, but I still feel I could shoot 67.
"It's supposed to be nice out here tomorrow and I'd love to think in July that it might be, but you never in this this corner of the world."
McGuirk, now 37, has been on the other side of the fence at the last three Sandwich Opens, starting as an 11-year-old boy when Sandy Lyle won in 1985.
"I can certainly remember the streaker in 1985," he said. "I was here doing a little work for Sunderland in the tent in 1993. And, in 2003, I was here watching, so to finally make it here is special.
"I've got through to local final qualifying a few times and missed out on making Royal Birkdale by a shot in 2008.
"But I couldn't have wished for a better place to make my Open debut.
"The Open is the best event in the world. I always wanted to play in it as a young lad and this is still part of a dream come true."
Cheam-based Fisher, by contrast, has dreams beyond just playing at an Open.
He still believes himself of capable of winning one, best remembered for his experience at Turnberry in 2009 when he began the last day in the final pairing, with his expectant wife back home in Surrey well overdue to deliver their first child.
His 13th place in Ayrshire was the second of three consecutive top 50 finishes at The Open.
And, although impressed by the efforts of two of the tour's older hands, Thomas Bjorn and Miguel Angel Jimenez, in hitting the front so soon, Fisher is certainly confident of keeping that record going at Royal St George's.
"Seventeen pars, one bogey," said the 30-year-old. "I played pretty good, but I actually thought it should have been a little better than that.
"I'm hitting it well and I've spent a lot of time working on my putting and I lagged it up well today.
"I made a couple of good saves at 15 and 17, and then at 18 too.
"But you've got to hole the putts when you need to. That's why I've still never won anything.
"Five under is a heck of a score from Thomas Bjorn and it shows it's there. He must have some memories of this course from 2003 and Miguel Angel Jimenez is like a red wine that gets better with age.
"But it's only Thursday - and Sunday is when it counts."