The Open 2011: British trio suffer at stormy Royal St George's
Last updated on .From the section Golf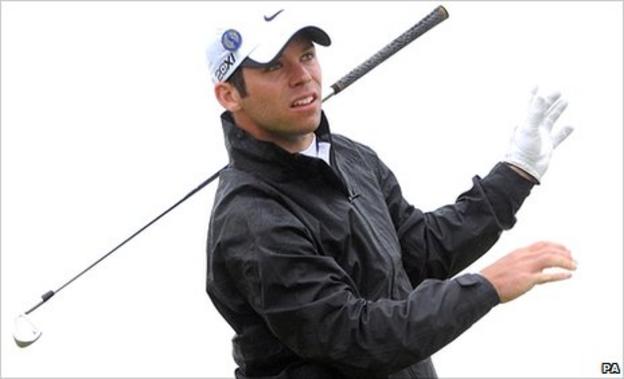 British trio Paul Lawrie, Paul Casey and Justin Rose were 28 over between them in round three after suffering the worst of the early weather at Sandwich.
Lawrie was in the second group out at 0905 BST and shot an 81, only one better than his worst Open score, which came at St Andrews last year.
That left the 1999 Open champion only one shot off the foot of the leaderboard at 14 over.
Casey's 78 left him 11 over, the same overall score as Rose who carded a 79.
Casey was only four over after 13 holes, but a drive out of bounds on the 547-yard 14th led to a double-bogey seven.
"It just slid off the club-face," he commented. "I was aiming left edge and it cleared the fence by about five yards, so that's 40 yards right of where I wanted.
"That was tough but we are here to win the Open so I'll play in any conditions.
"The problem is there is so much water getting between the clubface and the ball, it's very difficult to control it."
He paid tribute to the galleries on a dismal day in the south-eastern corner of England and said: "The crowds were unbelievable.
"They were heroes. I was expecting one man and a dog, but we had a couple of thousand on the first hole. I've got to applaud them."
Lawrie had an eagle at the seventh but had a double bogey, nine single bogeys and a triple bogey seven at the fourth after driving into the famous mountain bunker.
The 41-year-old suggested some modifications could have been made to the course in order to take the terrible conditions into account.
"I thought the fourth tee was really poor. They could have gone 50 or 60 yards up minimum to give you a chance.
"There's only about two or three people in the whole field who can hit it 250 [yards] into a howling gale in pouring rain.
"I necked it, but you're aiming in the left rough."
Of the conditions he said: "The Saturday at Muirfield in 2002 (the day Colin Montgomerie followed a 64 with an 84 and Tiger Woods shot 81) was worse than that, but now it's getting to that stage. I didn't play very good, but it was brutal."
Rose dropped to 11 over after a round that began with four consecutive bogeys.
The 30-year-old, who was only two over after round two, then compiled five successive pars before suffering five more bogeys on the back nine.