The Open 2011: Veteran Tom Watson stays in contention
Last updated on .From the section Golf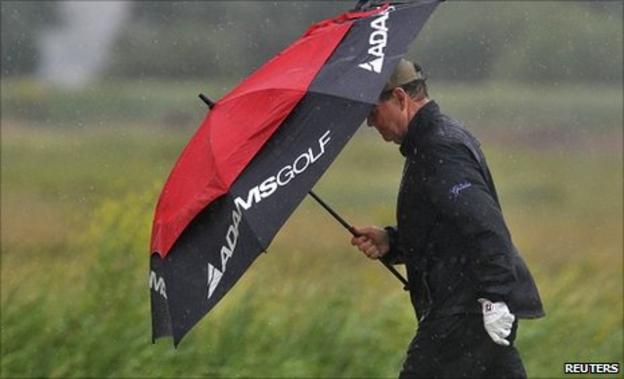 Evergreen Tom Watson says experience could be key at the Open after cheering the crowds with a third round 72.
The 61-year-old, who won the last of his five Open titles in 1983, was one under for his round after 10 but faded slightly to end four over par overall.
He said of the terrible weather: "These kids hit it so much further but it takes guile and experience on these courses and it takes some luck.
"The most important thing here is you have to manage the holes properly."
Watson, who lost in a play-off to Stewart Cink at the 2009 Open at Turnberry, played in the worst of the wind and rain on a stormy Saturday in Sandwich.
But he seemed to revel in the conditions, opening with six safe pars before a superb approach set up a birdie four at the par five seventh.
He then treated the intrepid galleries to a beaming smile when he sank a winding 25-foot putt for par at the eighth as he reached the turn in one-under 34.
Despite four bogeys on the inward nine in gusts of 40mph he remains in contention going into the final round and said of the Open challenge: "It can tear you up. It can tear you up and spit you out. It's done it to me.
"One of the things that you learn is there's an old saying, 'swing with ease into the breeze'.
"A lot of times these young kids try to hit the ball hard but that doesn't flight the ball in the wind very well.
"In my case I can't hit it hard because I'm 61 so I flight it naturally and that is good in conditions like this.
"I do enjoy it, the challenge of dealing with these conditions is fun - it is a game. I beat the course a few times today and it was very good for me. I managed to get around with my putter today, which was spot-on.
"It saved me and now I know why I won all those Opens - that putter has been good to me. Today is one of those days I'll remember because it was a good day out there."