Paul Lawrie and Stephen Gallacher battle Open elements
By David McDaid
BBC Scotland at Royal St George's
Last updated on .From the section Golf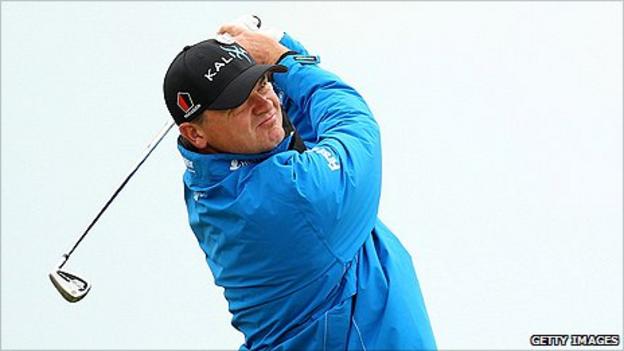 "My advice to you would be don't venture outside," were the wise words of one of the R&A media officers as the wind threatened to rip the roof off the media tent.
He should have offered that same advice to any one of the golfers at Royal St George's who was unlucky enough to have an early tee-off time.
Those who had hopes of clawing back some of just seven shots that separated the top from the bottom of the leaderboard were almost literally blown away.
The very fact he had even made the cut - one of only two Scots to do so - was in itself laudable.
Not even the world numbers one and two - Luke Donald and Lee Westwood - could manage that.
In round one, Lawrie had played through a bitter northerly wind, and on Friday he had coped with dry, fiery, sun-scorched greens.
The five-time Open champion Tom Watson said that the changing conditions created a totally different course.
On Saturday, we could have added a third totally different course.
Up against lashing rain and (by this time southerly) wind, Lawrie's scorecard was strewn with the dreaded light and dark blue numbers indicating dropped shot after dropped shot.
He wasn't alone as it took until just shy of 5pm for the first player, America's Rickie Fowler, to enter the recorder's hut and hand in an under-par card.
To Lawrie's credit he faced the media with a smile, despite an 11-over round of 81 leaving him second-bottom of the pile.
"I didn't play very good, but it was brutal," said the 1999 Open champion as water dripped from his nose.
"I think I went through seven gloves and five towels,
"I said to the crowd walking round, 'you're just mental'," admitting that if he was to look outside on a day like this he would readily leave the clubs in his garage.
The other Scot, Stephen Gallacher, may well be cursing his luck even more.
Sitting at one over par entering his third round, he also had to wrestle with the elements, carding a seven over 77.
But, just as he was making his way onto the 18th green the wind died down and the rain dried up.
"That's the way it's been going the last couple of months, but there's nothing you can do about that," he said.
"It was just survival out there, really; keep it up the middle and try and get up and down round about the green.
"The conditions today were probably the toughest I've ever played in - that or Carnoustie in 1999.
"This course is tough enough when it's flat calm.
"But when you add 30 miles-an-hour wind and rain, it's not easy."
More than 50 of his fellow rain-drenched colleagues would describe that as an understatement as extreme as the Kent weather.