Ian Woosnam admits retirement thoughts
By Peter Shuttleworth
BBC Sport Wales
Last updated on .From the section Golf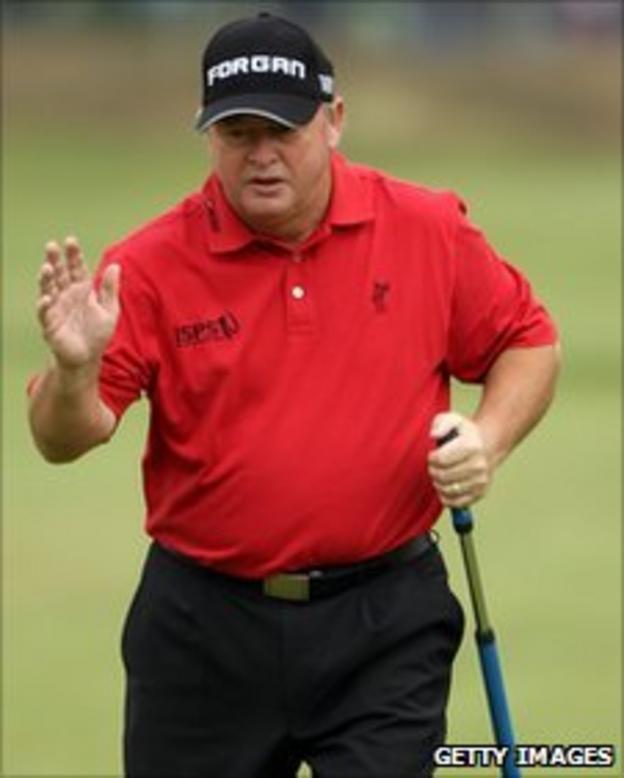 Former world number one Ian Woosnam has admitted he may retire from golf within the next two to three years.
Woosnam, who joined the European Senior Tour in 2008, has struggled with back trouble and told BBC Sport: "Retirement thoughts have crept in, no doubt.
"I am 53 now. I did say I'd do it until I'm about 55 or 56."
The 1991 Masters champion suffers spondylitis and needs a weekly injection in order to continue to play golf competitively.
"Without the injection I wouldn't be able to play to any standard where I wanted to play, so I would have ended up giving up," said the Welshman.
"The injection keeps me flexible and my back feels pretty good but I wouldn't want to go on playing past 60.
"I'll take a year-by-year approach on how long I continue playing and see how the back is. As it is, my back is a bit better and I'm enjoying it a little bit more as well."
Woosnam ended a two-year spell without a win at the Berenberg Bank Masters in Germany in June - his fourth victory on the senior tour.
But the former two-time European number one, who enjoyed 10 top-10 finishes in major championships, concedes that winning is not his biggest motivation at this stage of his career.
"A lot of me playing now is about enjoying it," said Woosnam.
"I've been doing it for 35 years. I now pick the tournaments I want to play in, the ones which I feel are convenient.
"I think of playing golf now as if I am going away with the boys and having a bit of fun.
"And if I play well, I play well and if I don't play well then I don't worry about it too much."