Padraig Harrington says Rotella input can pay dividends
Last updated on .From the section Golf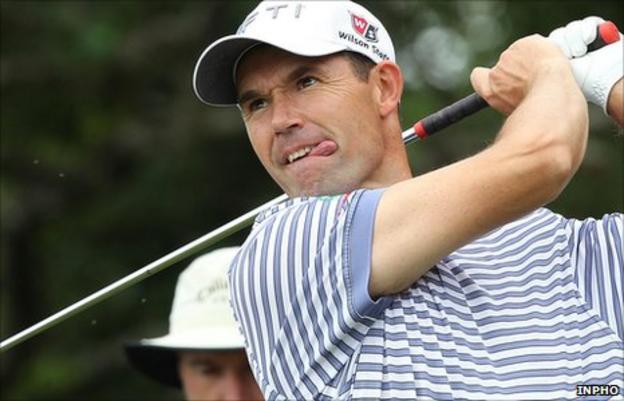 Padraig Harrington is optimistic that recent work with golf guru Bob Rotella will help him return to form at this week's Irish Open.
Former world number three Harrington has now slipped to 64th in the rankings after missing the cut at the Open.
But the Irishman believes a recent session with Rotella could cure putting woes which have dogged him this season.
"We talked about it again, did some work and I believe that we hit the nail on the head," said Harrington.
"I have been struggling with my putting for the last few weeks and just couldn't put my finger on the problem.
"We worked on it before the tournament (Open Championship) started and I thought we had figured it out, but it still wasn't working.
"Ultimately it came down to the fact that I hadn't fully committed to my preparation and so I was still trying to figure out what I was doing over the ball.
"I wasn't trusting my reads and so when I stood over the ball I was still trying to figure out where I was going to hit it.
"It was very disappointing to miss the cut, but I feel that the work I got done over the weekend will pay big dividends in the coming weeks," added the 2007 Irish Open winner.
Darren Clarke pinpointed Rotella's input as crucial to his recent Open Championship triumph at Sandwich.
With the prize fund for the Irish Open being halved to £1.32m following the loss of previous main sponsor 3, Clarke, Rory McIlroy and Graeme McDowell are the only members of the world's top 50 in action at Killarney this week.
Clarke and McIlroy have been named honorary life members of the European Tour after their major triumphs this summer.
The pair were presented with their lifetime badges in Killarney on Wednesday morning by Irish Prime Minister Enda Kenny.
Ross Fisher pipped Harrington to win last year at Killarney and the Englishman, who has slipped to 63rd in the world rankings, is back to defend his title.
The field also includes Simon Dyson, David Horsey, Gregory Bourdy and 2008 winner Richard Finch.