Scores shine at ladylike Carnoustie
By Colin Wight
BBC Scotland at Carnoustie
Last updated on .From the section Golf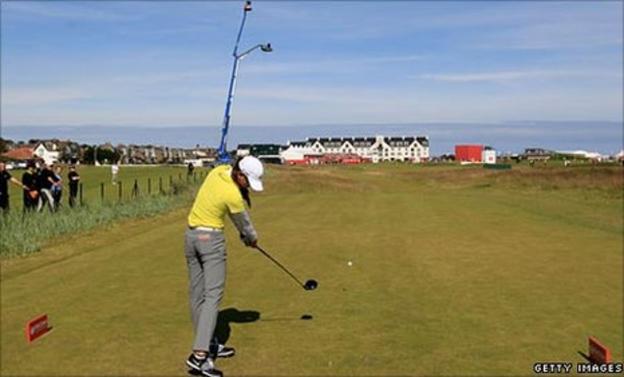 Phew, what a scorcher! Carnoustie. The British Women's Open. Day two and the sun is shining. This isn't how it's meant to be, surely.
It should be windy, wild, rugged; scores blown away.
But Carnoustie decided to be polite on Friday. The winds were light and not a sign of Thursday's brollies.
Scorching too was the leaderboard. The first day leader, Meena Lee of South Korea, was almost last to start, so everyone had the chance to play catch up. The target, six under par.
There were early charges from America's "Pink Panther", Paula Creamer, who ended on five under for the tournament. She hit her first shot off the first tee and then ran off, returning a few minutes later with a dark garment. She explained later that it was her rain pants. Paula, there was no danger you would need them.
Then Korean's legendary Se Ri Pak hit the ground running. Level par on Thursday, the five-time major winner took Carnoustie by the scruff of the neck and hit a glorious eight under for the day and the tournament - flawless.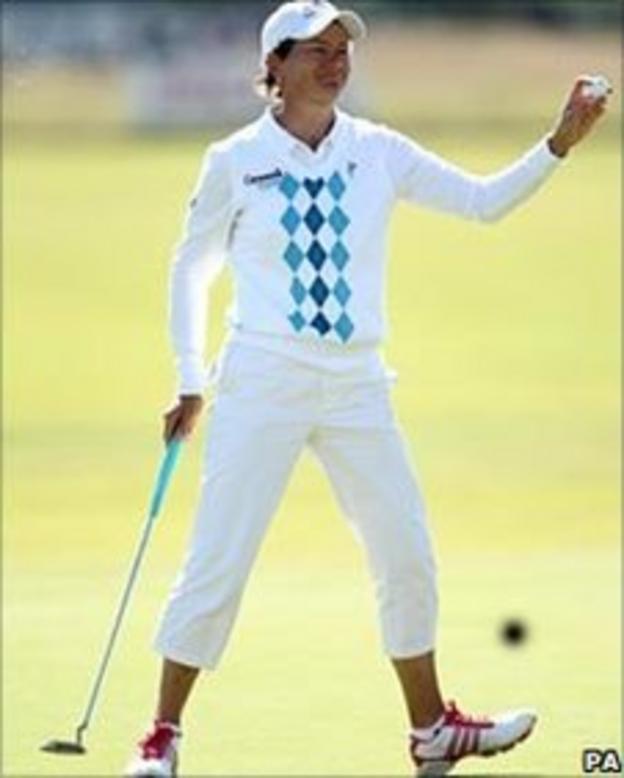 Legends, though, are there to be beat. Soon, fellow Korean Inbee Park had overtaken her on 10 under.
The Scots weren't to be outdone either. Janice Moodie, three over and seemingly out of it on Thursday, found the greens to her favour and hit birdie after birdie then an eagle at the 14th before two bogeys rained on her parade. She ended two under.
Top Scot Catriona Matthew also shrugged off Thursday's clouds and revelled in the sunshine. Two under on day one, she produced a marvellous 69 on the day to end a very contending five under.
Thoughts of a repeat of her victory at Royal Lytham two years ago remain very much alive - and how she and the crowd that cheered her on the 18th would love to be doing the same on Sunday.
Glasgow's Kylie Walker hit par on Thursday and again on Friday - more than happy with that in only her second season on the European tour and after having to qualify as late as Monday afternoon.
And, finally, spare a thought for Hamilton amateur, Pamela Pretswell, 22 years old and playing in her first major. One over on the 18th with a chance of making the cut, she missed the putt and her dream was shattered.
Tears in her eyes, the emotion was all too obvious. Dad William, her caddy, gave a comforting pat on the shoulders. It isn't the first time and it won't be the last that the 18th at Carnoustie has ended all hope. For someone on Sunday, it will be very different.