Rory McIlroy defends his caddie JP Fitzgerald after pundit's criticism
Last updated on .From the section Golf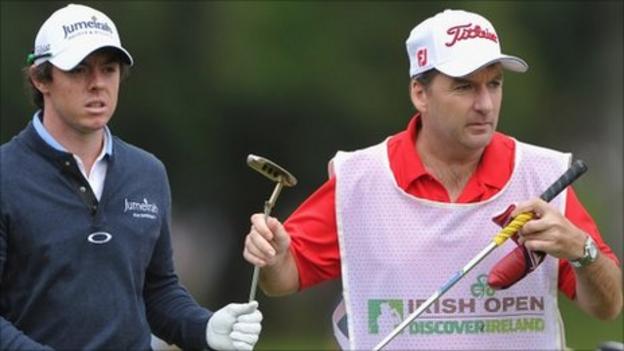 Northern Ireland's Rory McIlroy has again defended his caddie JP Fitzgerald in the wake of criticism from golf pundit Jay Townsend at the Irish Open.
He then endorsed a Tweet which suggested McIlroy should hire Tiger Woods's ex caddie, Steve Williams.
"It was a comment too far, I've got to stand up for my caddie," said McIlroy.
The US Open champion has had JP Fitzgerald on his bag since the middle of his first full season as a professional in 2008.
From being four under after 10 holes on Thursday, the Northern Irishman dropped three shots to finish one under.
After bogeying the 11th his fairway bunker shot found water at the side of the 18th green.
That prompted former European Tour player and BBC Radio 5 live pundit Townsend to Tweet: "McIlroy's course management was shocking. Some of the worst course management I have ever seen beyond under-10 boys' golf competition."
McIlroy quickly replied: "Shut up... you're a commentator and a failed golfer, your opinion means nothing!"
The 22-year-old sank four birdies in his closing 10 holes on Friday to easily make the cut and he went into the weekend six shots behind German leader Marcel Siem, who was on 10 under par at the halfway mark.
In an interview with Radio 5 live after Friday's round, McIlroy added: "I don't care if he [Townsend] criticises me because I'm the golfer and I hit the shots.
"JP can't stand up for himself in the media. I have to stand up for him because he is the best man I think I can have on my bag.
"He has taken me from 200 in the world to major champion.
"I don't know whether Jay has something against JP, but some of the criticism he takes from him is very unfair.
"Jay has been having a go at my caddie for three years. It started in Switzerland in 2008.
"I do not have any respect for the man."
Townsend, 49, told Reuters: "It was an unfortunate exchange. I prefer to put it in the past and concentrate on the Irish Open."