Padraig Harrington takes break from coach Bob Torrance
Last updated on .From the section Golf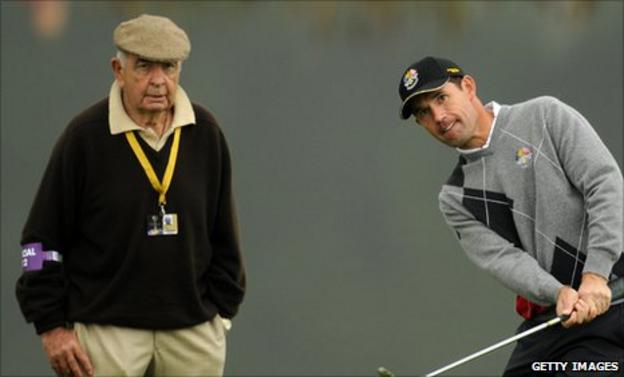 Padraig Harrington is taking a break from long-time coach Bob Torrance in a bid to rediscover his form ahead of the USPGA Championship.
The three-time major winner has not won a title in Europe or the United States since his USPGA triumph in 2008.
The 39-year-old said: "I've got to change something in myself, attitude or something like that.
"We haven't split. Until I am ready to listen to what he has to say we are having a break."
Torrance, 79, is one of the most respected coaches in world golf, and the father of former European Ryder Cup captain Sam Torrance.
The Scot has worked with Harrington for the last 15 years, and said: "He's like a son to me and I hope we can get back together. I wasn't really expecting this, but I know he's been unhappy.
"His game is in a bad shape because of his mind - I've said that to him - but he's determined to make changes.
"You always strive for perfection but Padraig had won two Opens and a PGA with the old swing and we disagreed about the changes.
"He has his own ideas though, and once he makes his mind up that's it. I hope we'll meet again - some sunny day."
Harrington, who has described Torrance as "a genius", missed the cut at the Irish Open on Friday, posting rounds of 73 and 72 to finish on three over par.
He has slipped down the world rankings from a peak of third in 2009 to his current position of 64th, and said after failing to make the final two rounds at the Killarney Club: "I'm not thinking of changing personnel. We are having a break because I am getting very frustrated."
Harrington has won 16 titles in Europe and the United States since joining the European Tour in 1996.
His golden spell of form came between July 2007 and August 2008 when he won back-to-back Open championships at Carnoustie and Royal Birkdale, and the USPGA at Oakland Hills.