Rory McIlroy set to return to PGA Tour in United States
Last updated on .From the section Golf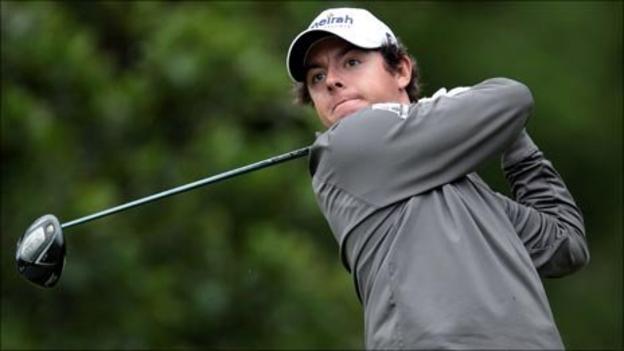 Rory McIlroy has said he is likely to play on the PGA Tour in the United States again after a one-year absence.
The US Open champion, 22, played the US circuit last season but then gave it up because he was missing Europe.
"I'm leaning towards taking my card here again - I'm comfortable in this country and I feel like my game suits the courses," said McIlroy, who is in Ohio for the Bridgestone Invitational.
"Most of my favourite events are in the US and I'd like to give it a go."
McIlroy picked out Quail Hollow, Memorial and Akron as being among his favourite courses.
He added: "You play the Match Play, Honda, Doral, Masters. You have your favourite events, and most of my favourite events seem to be on this side of the pond.
"I'm going to look at a few houses in Florida after the USPGA and I'm looking at maybe playing a full season over here.
"I seem to play my best golf here so it's something I'm looking at seriously."
McIlroy added that he regretted some of the comments he made after the final day of the Open at Royal St George's.
The Holywood player said at the time that he was unlikely to win an Open until there were good weather conditions and added that he would not be altering his game to suit links courses.
But he admitted on Wednesday: "I was very frustrated with how the weekend had gone at the Open.
"If I had to do it again I would probably have said something different but I just said what was on my mind at the time.
"I am always very honest in my interviews and try to give good answers."
McIlroy added that his controversial Twitter exchange with golf pundit Jay Townsend at the Irish Open last week had been "unfortunate".
Townsend had strongly criticised McIlroy's course management after his opening round at Killarney, comments which the world number five took exception to, urging the analyst to "shut up".
"I was just off the golf course, having carded a double bogey at the last - I saw a couple of comments and responded to them," said McIlroy.
"That's the world we live in now - everything is instant and in the public domain.
"Maybe I should think about things a little bit more but it will not stop me Tweeting or speaking my mind.
"During the weeks I am playing tournaments I try not to go on Twitter too much or look at what people are saying."