Former Tiger Woods caddie hails Adam Scott win as "most satisfying"
Last updated on .From the section Golf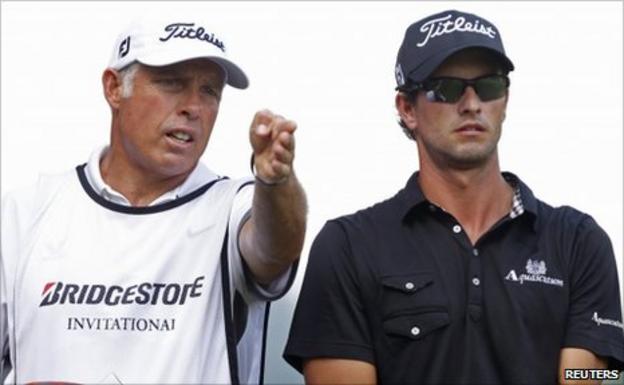 Caddie Steve Williams claimed helping Adam Scott to victory was the most satisfying win he's ever had - two weeks after being axed by Tiger Woods.
New Zealander Williams won 13 majors alongside Woods before the duo
Williams was on the bag as Scott on Sunday - 18 shots ahead of Woods.
Williams said: "It's the greatest week of my life caddying - and I sincerely mean that."
Scott finished four shots ahead of England's world number one Luke Donald and Rickie Fowler to take his first world title.
Williams, 47, will be alongside his new man for the USPGA Championship in Atlanta this week but is stil bitter about his sacking by Woods.
"It's the most satisfying win I've ever had, there's no two ways about it," Williams said.
"The fans have been unbelievable.
"I was absolutely shocked that I got the boot to be honest with you. I've caddied for the guy for 12 years, I've been incredibly loyal to the guy and I got short-shrifted."
Woods finished joint 37th but was satisifed with his first tournament back after 12 weeks out with knee and Achilles tendon injuries.
"I had it in spurts," he said after a closing 70 that contained a hat-trick of birdies from the 15th.
"I hit it really well and then I'd lose it and get it back.
"I'm still struggling with my alignment and trusting the fact that the ball doesn't shape as much as it used to.
"But I'm absolutely encouraged. You have to understand I haven't played. At home playing money games with my buddies is just not quite the same."