US PGA: Donald and Westwood look on the lighter side

By Iain Carter
BBC golf correspondent in Atlanta
Last updated on .From the section Golf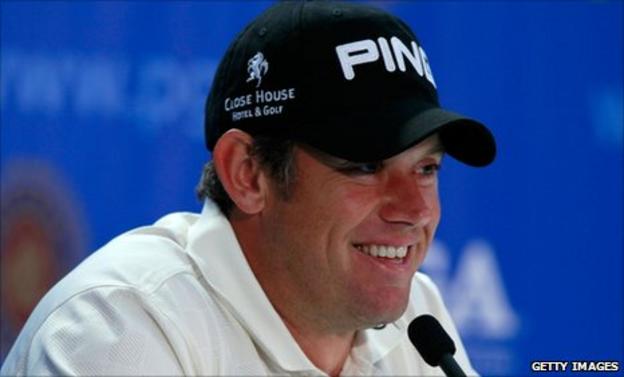 Luke Donald has been whistling to himself to help hole putts, and Lee Westwood was cracking one-liners as if auditioning for Michael McIntyre's comedy roadshow.
The top two golfers in the world are trying new methods to find the correct frame of mind to land their first major.
Donald and Westwood have scaled the heights of the rankings without winning one of the big four championships. This week represents their last chance to clinch a major in 2011 and both are seeking new ways to deal with the pressure.
"Majors are in this day and age made out to be the biggest deal," Donald said as he prepared for this week's US PGA Championship at Atlanta Athletic Club.
"People put a lot of pressure on the guys who haven't won, and sometimes you can go to these events and try too hard.
"You feel a little bit more uptight. Sometimes it's harder to let it go and just play the way you know how to play.
"There's a hard balance between not trying and putting in some effort to give it your best. It's a fine line."
Donald believes that had his putting been sharper at Firestone last week he might have beaten eventual champion Adam Scott rather than finishing second, four shots behind the Australian winner.
In the process the world number one was keen to take his mind away from the technical side of his putting and took a novel approach.
"I actually started whistling while I took my stroke," he admitted.
Westwood is also adopting a new mental approach, having for the first time enlisted the help of a sports psychologist. The man who is number two in the rankings has been working with Dr Bob Rotella, the mind guru who helped Darren Clarke to his Open triumph last month.
"I haven't really worked with a psychologist at all throughout my career," said Westwood.
"So it just made sense to go and consult somebody on it and I think Bob is regarded as the best."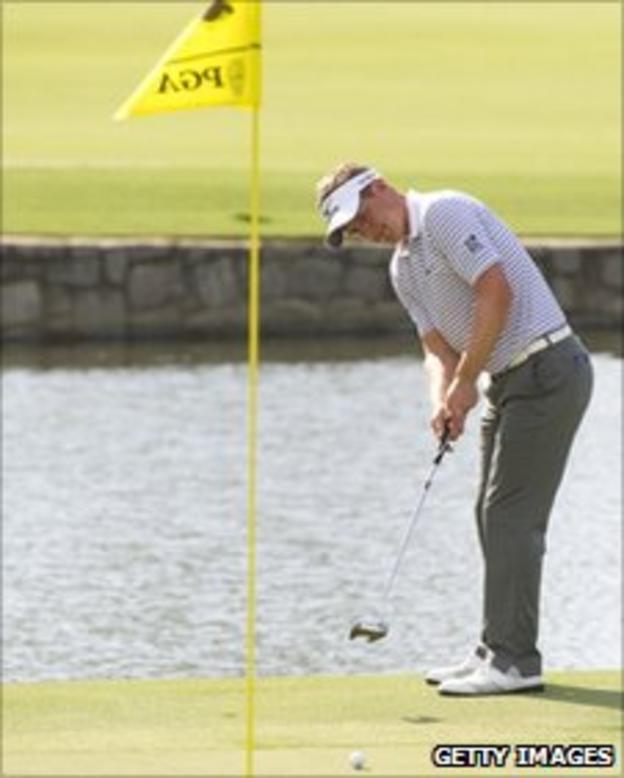 Rotella's philosophy is to encourage his clients to play with a carefree confidence and he has encouraged Westwood to lighten his mood ahead of this championship.
The result was a gag-a-minute pre-tournament press conference, which began with him disputing the moderator's contention that Westwood had finished tied 44th the last time the US PGA was staged here at Atlanta Athletic Club.
"I thought I missed the cut, are you sure?," he said.
"Tied for 44th, opening 71," the PGA of America's Kelly Elbin countered. "You had a couple of 68s in the middle."
Without missing a beat and to much hilarity, Westwood replied: "I played nicely in 2001 and shot a couple of 68s, really loved the course and glad to be back. Good memories."
And on it went, with his caddie Billy Foster and manager Chubby Chandler in the firing line as the levity continued.
Having seen the benefits of the serene mental outlook that brought Clarke the Open title, Westwood knows how important it is to find that state for himself this week and at future big tournaments.
"Over time you lose sight of certain things and you forget what you were doing and you sometimes can't put your finger on what you're doing with regard to the mental side of the game," Westwood said.
"And you just need jogging a bit, so that made sense to go and see Bob. He's got all the letters after his name, so I figured he was the best."
Westwood is certainly giving the impression of calm confidence ahead of the final major of the year, and so too is Donald.
The big question, of course, is whether they can sustain that mood when the action begins in Atlanta's sweltering heat on Thursday.