Darren Clarke hopes for second major win at US PGA
Last updated on .From the section Golf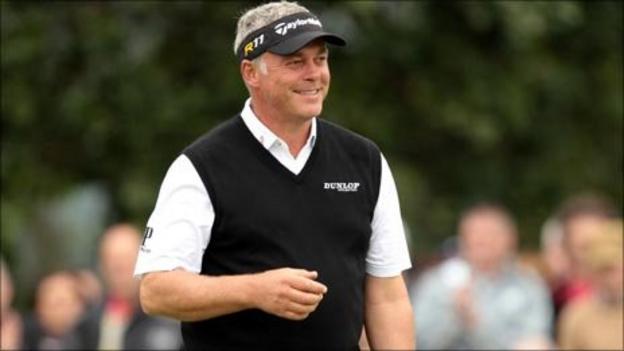 Darren Clarke is hopeful of mounting a challenge at this week's US PGA Championship despite feeling weary in the aftermath of claiming his first major title at the Open last month.
"I've got to go to the range and work on my ball striking and hopefully get that back to a level where I can control my ball flight," said Clarke.
"If I can do that I will see how good my best is this week.
"If I can play my best, my best is good enough to contend and win."
He added: "My expectations are pretty even keel - I'll be trying as hard as I can."
The Northern Irishman's emotional triumph at Royal St George's after years of seeking a major breakthrough saw him take time for a major celebration, one he would aim to duplicate should he repeat the feat at Atlanta Athletic Club.
"It would be very special," said Clarke. "I may go AWOL for a few days like I did the last time."
Aside from major differences in the style of course and a sweltering heat for this week's event, Clarke finds himself having had little time for rest since winning the Claret Jug but feeling no extra pressure because of his triumph.
"I would like to think it hasn't changed me at all; I hope it won't and I don't think it will," said Clarke.
"All I will say is that I'm still a bit tired. I've had no time off since the Open so I will be looking forward to a couple weeks off after this week. I haven't played well since mainly due to the fact that I have not had any time off."
Clarke tees off on Thursday afternoon with fellow 2011 major champions Charl Schwartzel, the Masters winner, and Rory McIlroy, the US Open champion.
"The heat is going to be a massive, massive factor this week," Clarke warned, while adding with a laugh, "I'm such a finely tuned athlete it should not affect me that much.
"The heat is going to be tough for everybody. I've got to drink an awful lot of fluids and keep focused on what I'm doing."
Asked what lessons he had learned from finally winning a major, said Clarke: "Patience and to never give up, that's what it taught me. I was very patient the whole week, which I have not been that often in the past.
"You never know what the game is going to give you - you never know what is just around the corner. Just never give up, keep going. Keep going. That's what it taught me."