US PGA: Rory McIlroy confident ahead of Atlanta major
Last updated on .From the section Golf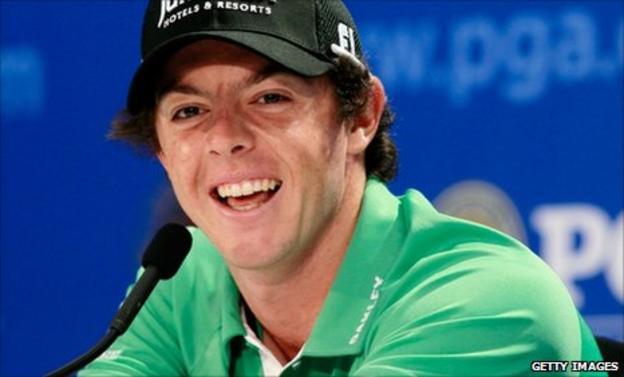 Rory McIlroy has said he is in good enough form to land a second major at the US PGA Championship on Sunday.
"I'm playing very well," said McIlroy. "I drove the ball great last week. I'm hitting it nicely.
"As long as I can hole a few putts this week, I feel as if I'm in with a good chance."
The 22-year-old from Northern Ireland has the chance this weekend to become the youngest player to win two majors since Gene Sarazen nearly 90 years ago.
"This golf course is in phenomenal condition, and the fairways are probably the best I've ever seen," he said. "The greens are fast and you can't really get the ball above the hole. It'll be tricky from there.
"Most of all, it's a straightforward golf course. Everything is out in front of you. You can make a few birdies around the turn and then you've just got to hang on for dear life coming in."
Third on his only two previous appearances in the US PGA, McIlroy added: "I love how the PGA of America set the golf course up at this event. I think it really suits my game. It puts a premium on ball-striking and I'm looking forward to getting going.
"I've always thought as if this and The Masters would probably be the two that suited me most.
"I feel very comfortable in this country and playing on the types of golf courses over here. I also get a great response from the crowds - I feel the reception I get is like an American player."
Former world number one Tiger Woods tees off from the 10th hole at the Atlanta Athletic Club at 1335 BST.
The 35-year-old is making his way back after knee surgery and finished 15 strokes off the pace at last week's World Golf Championships.
"The goal is to win every week, but the first thing is I had to get healthy in order to get back to that level," said Woods. "I hadn't been able to practise, hadn't been able to work on my game. I've been sidelined for a long time. It all starts with being healthy first. Now I can start playing again."
England's world number one Luke Donald tees off at 1325 BST, with compatriot and world number two Lee Westwood starting his first round at 1855 and Germany's defending champion Martin Kaymer off at 1815.
Temperatures are expected to soar in Atlanta and Open champion Clarke believes that will be a significant factor over the four days of competition.
"The heat is going to be tough for everybody," "I've got to drink an awful lot of fluids and keep focused on what I'm doing."