Rory McIlroy plays through wrist injury at US PGA
Last updated on .From the section Golf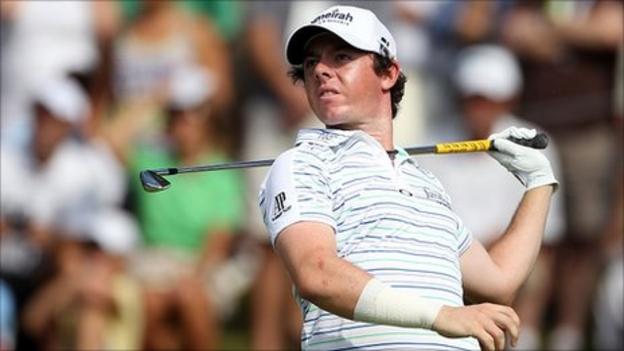 Rory McIlroy defied his injured wrist to card a second-round 73 to reach the halfway point at three over in the US PGA Championship in Atlanta.
The 22-year-old played with heavy strapping on his forearm after hurting his right wrist early in round one.
A scan showed up a strained tendon and McIlroy opted to continue after testing his wrist on the range on Friday.
"It's no worse," he said. "It's uncomfortable, it's not very painful, just a niggle in the back of the mind."
The US Open champion added: "If it wasn't a major, I probably would have stopped yesterday."
Resuming on level par after Thursday's opening 70, McIlroy dropped a shot at the 10th, his first hole, but got it back at the long 12th.
A birdie on 16 took him back under par but he then made a triple-bogey six on the short 16th after catching the water in front of the green.
He dropped another shot at the third but made amends with a birdie at the sixth before a final bogey at the eighth.
"It was probably tougher mentally more than anything else, trying to get it out of your mind," he said.
"I hit it OK but I struggled to read the greens. Even if I had a broken wrist I should have putted better than that."
McIlroy picked up the injury on Thursday when his drive on the 375-yard par-four third nestled on a root in the left trees but, instead of playing out sideways, along the length of the root, he opted to try to hit the ball forward.
The club made a heavy contact with the root and McIlroy grimaced and dropped it, clutching his wrist.
He quickly applied an ice pack and played on, despite wincing after each shot.
"It was just like a sharp pain up the forearm and there's a little bit of swelling just on the inside of my wrist," McIlroy said.
"Then it was going up into my elbow and my shoulder. It's throbbing a bit and every time I went through a shot I was in a lot of pain."
The Northern Irishman added: "I thought maybe the tree root was a foot in front of the ball and thought if I could make contact with the ball and let the club go I could get away with it.
"In hindsight I would have been better to chip out sideways and still get a five. But it was a shot where I thought if I took it on and pulled it off it could have saved me a shot.
"The physio said it was my decision [whether to continue]. It's the last major of the year and there's six or seven [actually eight] months to the Masters."
McIlroy, who at times looked to be on the verge of quitting, saw a physio on the fifth and had strapping applied on the eighth and again on the 10th.
He managed to complete his round and was taken to a local hospital for an MRI scan before sleeping on his decision of whether or not to continue.