Ryder Cup 2018 igniting French golf revolution
Last updated on .From the section Golf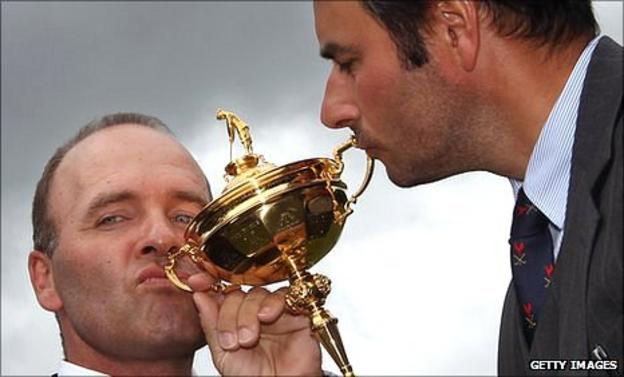 Paris playing host to the Seve Trophy four months after France pipped rivals Spain to land the 2018 Ryder Cup seems fitting.
Days after the the European Tour selected a nation with a dearth of glittering golf pedigree to host the famous competition - ignoring the claims of one that had given golf its biggest-ever personality.
It was seen, by some, as a surprising snub. Dissected, it wasn't.
More than anything, France is ripe for golf growth. Of all the bidding nations - Spain, Netherlands, Germany, Portugal - its team, with government backing, stressed its determination to use the Ryder Cup as a catalyst to significantly expand the sport.
Looking beyond the predictable promises about a "lasting legacy", BBC Sport speaks to two figures well versed in French golf to assess the challenges the game there must address over the next seven years.
DITCH THE STUFFY IMAGE
Down-to-earth course designer David Abercrombie, a links-loving Northern Irishman who owns and runs a rare links-style course at Alsace Golf Club, has been plying his trade in France for 20 years.
"The image of golf here has been fairly elitist," he says.
"It's very much seen as a sport for the upper-middle classes. Your average Joe Bloggs would not think of becoming a golfer. When I first came here, golf was hardly on TV even. Nobody talked about it really.
"I do explain that it's not the same in the UK. I've exaggerated things at my club to put that message over [of a sport accessible to all].
"Unlike most golf clubs in France, I haven't invested anything in the front door basically. So it's very simple, very open, and very welcoming. Keeping prices as low as possible is important.
"It's important to welcome people - and let them see it's not necessarily a five-star hotel. Quite often the best restaurant in the area was in the golf club. It's the same thing in Germany."
Tony Price, a PGA European Tour Senior and the English-speaking club professional at the sumptuous Le Kempferhof, agrees.
"It's still seen as a middle- to upper-class sport," he says. "It's not really a sport for the public, or for the working class, at the moment.
"Its popularity flared a little in the late 80s and early 90s, but hasn't really picked up since then. Ultimately, it's way too expensive for the majority of people.
"I haven't really seen much of a boom in people playing... yet."
BUILD MORE PUBLIC COURSES
One of the more noble elements of a water-tight French bid, which strongly appealed to the European Tour's commercial aims, was its promise to establish 100 'urban' golf courses by 2018.
This is crucial if the Ryder Cup tournament, at Le National near Paris, is to be more than a flash in the pan.
"There are a lot of private clubs in France, but there's no real grassroots, simple clubs, for people to come and go without having to pay a share or a big entrance fee," says Abercrombie.
Price is of the same opinion - and points out an extra stumbling block for those trying to bring the good name of golf to the masses, though he is hopeful this can now be removed.
"I don't really know of any public courses - I can't think of any in the way that we have them in the UK," he says.
"Most of the courses are not in residential areas. For me, growing up, it was a five-minute walk round the corner. I could play golf every night. That doesn't happen here.
"One of the problems is that most of the land is for agricultural purposes, or for building on. It's very difficult to get the zoning of the land changed. As long as farmers continue to get huge subsidies for growing things, often well beyond what's required, it is extremely difficult to do something different with their land.
"I tried for ages to get a piece of land myself. It was nigh-on impossible."
Abercrombie - whose addictively playable course sits in a stunning location right in the shadow of the Vosges mountains - insists the French Golf Federation have been given a "kick up the backside" by landing the Cup, and is positive they will "really open things up now".
He adds: "There wasn't much of a structure before. Everybody was quite private, and did their own thing.
"There's big talk now about clubs and courses on communal lands."
TAKE GOLF INTO SCHOOLS
Ask Price and Abercrombie what France needs to do to truly capitalise on the money being invested into the game on an unprecedented level, and they are again unanimous in their response.
"We must get the game into the schools here," says Abercrombie. "I'm trying, but the mindset must change. The kids are keen, but those that make the decisions are not so enthusiastic - even though it was virtually free.
"It's a big challenge for the federation to break down those barriers."
Price even suggests golf tries to inch its way on to the PE curriculum.
"That way you'd get a real generation of golfers coming through together in 10-15 years' time," he says. "There's a big vacuum now."
But Abercrombie is optimistic.
"The politicians in the federation are already talking, quite sensibly, about creating smaller projects where everybody can get a taste of this game. Naturally, the more urban courses will appeal to younger clientele. That could be a real barrier-breaker.
"Let them see it doesn't have to be full of stodgy folk traipsing round in their electric cars."
GET A FRENCHMAN IN THE 2018 TEAM
Not since Jean van de Velde's famous loss at the 1999 Open - when he removed his shoes and socks to step into the Barry Burn as a triple-bogey seven on Carnoustie's 18th destroyed what seemed a certain shock victory - has a French player truly hit the headlines.
Having a Frenchman representing Europe on arguably golf's biggest stage, forging a reputation as a winner rather than a gallant loser, could be the true tipping point in transforming the Gallic game.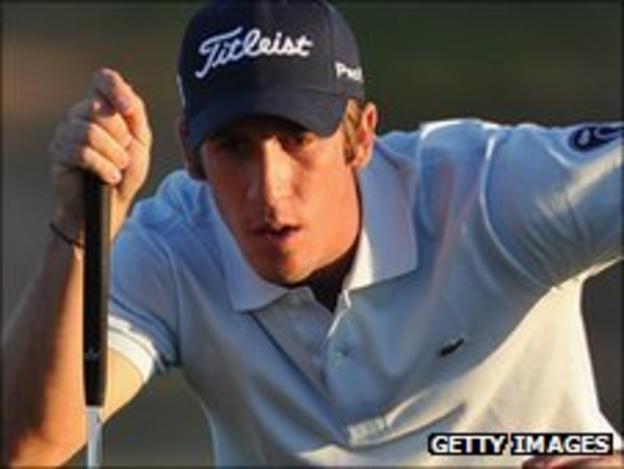 The emergence of a champion capable of challenging the best players in the world is a priority, insists the French Golf Federation, stressing that new and ambitious plans are already taking shape.
Romain Wattel and Alexander Levy were team world champions in 2010, Victor Dubuisson was the world number one amateur in 2009, and Alexandre Kaleka is an emerging talent.
Yet Price warns that they must put a better structure in place.
"Some players are very good, and they are represented reasonably well on different tours," he says.
"But there is no great awareness of a decent training programme in France. All these players with rich promise need good coaching, and [to be part of] a strong squad. They need to take the top dozen players and work with them more closely."
Whether France can cheer on a native player as it hosts the Ryder Cup in 2018, Abercrombie believes the hard work will have been done to create a brighter future regardless.
"All our golfers are very excited about the Ryder Cup - it's created a good atmosphere and we're really looking forward to it now," he says.
"Golf's appeal does need spreading in France. But I'm very confident it will happen by 2018."