Edwards admits Law's Walker Cup omission was tough call
Last updated on .From the section Golf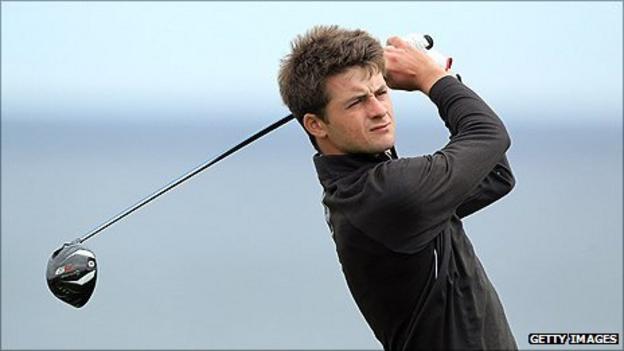 Nigel Edwards admits telling Scottish amateur champion David Law he was not in his 10-man GB and Ireland Walker Cup team was "a tough phone call".
Manager Edwards broke the news to the 20-year-old Hazlehead rising star that he would be first reserve to face Jim Holtgrieve's American team.
"It was a tough decision. The last spot is always difficult," Edwards said ahead of the Royal Aberdeen tournament.
"Sometimes the selection committee have to go with their hunch."
Edwards added: "There's nothing worse than getting that phone call. I guess being first reserve is worse than any other spot although there is the glimmer of hope that you get the call-up.
"But I think we've got a very strong team."
Law had been tipped to feature against the United States after winning the Scottish amateur title for the second time in three years.
And his exclusion from Edwards' team seemed all the more galling to Law's admirers when, recently, he won the Aberdeen Asset Management Northern Open at Meldrum House with scores of 67, 69, 62 and 68, becoming the first amateur to lift the trophy since 1970.
"I'm obviously very disappointed. It would have been special playing a Walker Cup in Aberdeen," Law told BBC Scotland.
"Nigel has picked the team that he thinks is the best to win the match against the United States. All the best to them, I will be supporting them for sure.
"The fact of the matter is that I had a really good start to the year, I made up a lot of spots in the world rankings, but I didn't play well enough in the middle of the summer.
"If I had played decent in the middle of the summer I would have been fine."
Law, though, has taken comfort from discovering just how well he responded to the extra pressure he put upon himself to clinch a Walker Cup place by trying to win the Northern Open.
"I went in to that week knowing I needed to win and my game was really coming on to a bit of form," he told BBC Radio Scotland's The Golf Show.
"So to go out and win, knowing if I was to have any sniff of a Walker Cup spot I had to win, gives me a lot of confidence."
Instead of being part of the GB and Ireland team based at St Andrews, Law seized the chance to participate in a pro European Tour event, the KLM Open in Hilversum in Holland.
Sadly, he endured a torrid first round, shooting eight over, the same score as countryman Elliot Saltman.
Law has been taken under the wing of Open winner Paul Lawrie and describes his support as "overwhelming but great", adding that the pro's financial contributions have eased the burden on his parents.
"Paul has been terrific. It is the time he has got for me," he said.
On his plans for the coming year, he added: "I'm going to go to the European Tour Qualifying School this year at Frilford Heath.
"If I get through, I'll need to get a Challenge Tour card at least and if I don't get that I'll do another year as an amateur."
Listen to The Golf Show on BBC Radio Scotland on Sundays, 1030-1100 BST.