Seve Trophy 2011: Miguel Angel Jimenez to honour Ballesteros
Last updated on .From the section Golf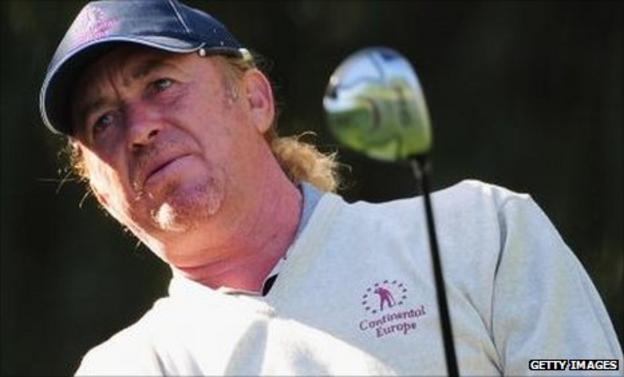 Miguel Angel Jimenez will honour his late friend Seve Ballesteros by hitting the first shot in the Seve Trophy.
Jimenez will lead Continental Europe into action as he and Pablo Larrazabal take on Great Britain & Ireland's Simon Dyson and Jamie Donaldson in fourballs.
Europe captain Jean van de Velde said ahead of Thursday's start: "Seve is the reason this tournament exists.
"After his passing away a few months ago, we felt that paying a tribute to the man would be very important."
He added: "We decided there would be a Spaniard hitting the first shot of the tournament.
"Who better than his good friend Miguel Angel Jimenez?"
Meanwhile, GB&I captain Paul McGinley believes his team are underdogs in Paris.
McGinley's side contains world number two Lee Westwood, Open champion Darren Clarke and Simon Dyson, who won the KLM Open in the Netherlands on Sunday.
Van de Velde's team includes Thomas Bjorn, Jimenez and Francesco Molinari.
McGinley said: "There is no doubt Continental Europe are favourites. They are a stronger team on paper."
McGinley is without world number one Luke Donald and third-ranked Rory McIlroy for the four-day matchplay competition.
He conceded: "I'm disappointed not to have Luke and Rory because I'm competitive - I want to win. I wanted my best team available.
"But I understand the top players in the world are playing a different schedule in which ranking points are very important to them. Everyone makes decisions on what is best for their career.
"I certainly wouldn't criticise them. I'd love them to be playing but that's not the case."
The match is being played at Golf de Saint-Nom-la-Breteche in Paris and McGinley believes the location also favours the Continental Europe team.
He said: "They have a French captain and that's going to mean a vociferous crowd. We're under no illusions we're the underdogs, but we have been before - and come out on top."
Despite that, McGinley is confident in the team he has available.
He said: "I'll be looking for input from the experienced men - Lee Westwood, Darren Clarke and Ian Poulter. I'll be consulting them all the way through.
"I've played Ryder Cups with all three of them, and Seve Trophy matches, so I know them all well personally and professionally."
Van de Velde insists his side will be motivated by five straight defeats in the event.
The Frenchman commented: "We've played this match six times and [GB&I] have won the last five; that will be the inspiration for my team.
"I have a couple of leaders. Thomas Bjorn is in incredible form. He comes into this match with first-first to his name. It's his sixth Seve Trophy and he knows how many times we have lost in a row. He doesn't like to be beaten.
"Miguel Angel Jimenez never knows when he is beaten and he has played in three Ryder Cups and all six Seve Trophy matches.
"I have 10 players who feel that way too. They are all champions and, if there is one thing they hate more than anything, it's losing."