Gary Orr looks to build on strong finish in KLM Open
Last updated on .From the section Golf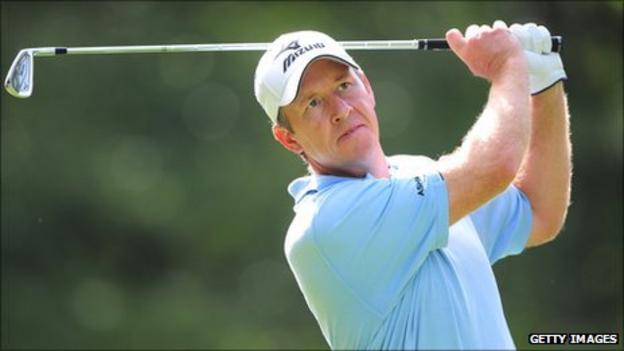 Gary Orr is targeting retaining his European Tour card in the coming weeks after his .
The 44-year-old Scot has rediscovered his form in recent months since overcoming a persistent back problem.
"I need another good finish or two but there are a few events left," said Orr, who needs to leap 17 places in the Race to Dubai to earn next year's Tour card.
"Hopefully, I can put in another couple of good performances."
The Helensburgh golfer, who now plays out of Burhill in Surrey, was at the peak of his form a decade ago, having won a few European Tour events and having played in the Dunhill Cup, World Cup and Seve Trophy.
Indeed, Orr was 10th in the European Order of Merit in 2000.
But back pain brought suffering to his body and his game.
"I'd got my golf to a really good level and then it dipped off," Orr told BBC Radio Scotland's The Golf Show.
"The back definitely contributed to that. Once it starts to become persistent, it becomes quite difficult to work on your game; you spend half your time trying to get your back right.
"But something kept me practising hard. I still believed I could play decent golf if I could get my back in shape.
"If I could get the time to work at my game, I felt I could still play fairly well and that kept me going."
Thankfully, a strengthening programme, dietary regime and new warm-up and cool-down exercises have paid dividends and Orr is able to play with renewed vigour.
"I seem to have made a bit of progress in the last four or five months," he added.
"I had a disc problem a couple of times and then it was on and off, but since April/May it has been much better and it has not been giving me too much trouble at all.
"I feel more confident about it. It feels much better generally, hopefully I can keep on top of it."
Orr was joint-leader going in to the final round of the KLM Open and finished three shots behind the eventual winner Simon Dyson after rounds of 68, 66, 66 and 71.
He was, though, in fine company: Northern Ireland's Rory McIlroy was only one shot ahead of him and England's Lee Westwood finished fifth, one shot behind.
"It felt great," said Orr of the Dutch tournament. "It was nice to be back up there in contention.
"It has been a couple of years since I had a top-10 finish, it has been a bit of a struggle in between times.
"I putted really well and that was the difference."
Listen to The Golf Show on BBC Radio Scotland on Sundays, 1030-1100 BST.