FedEx Cup: Luke Donald & Justin Rose eye bumper prize
Last updated on .From the section Golf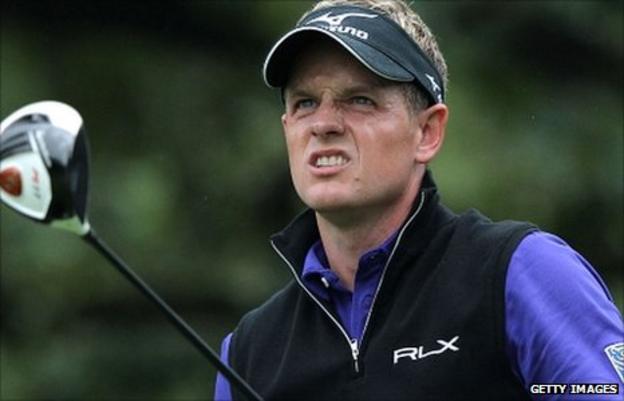 Justin Rose and Luke Donald are among five players with a realistic chance of winning the FedEx Cup at the concluding Tour Championship in Atlanta.
England's Rose is third in the rankings after last week's BMW win in Chicago, while world number one Donald is fourth in the race for the $10m (£6.4m) bonus.
Americans Webb Simpson and Dustin Johnson lead the standings but all 30 players have a theoretical chance.
Matt Kuchar is fifth and a win for any of the top five would secure the Cup.
But any of the elite field, which has been whittled down from 125 in the first of the four Fed Ex events, can still win overall should the top five fall short.
Donald is also second on the PGA Tour money list for 2011 and top of the European Tour equivalent, the Race to Dubai, and is bidding to become the first player to win both lists in the same season.
Asked about the potential of winning both the FedExCup purse and a further $1.4m for the Atlanta tournament, Donald said: "I'm not really thinking about the money. I'm really more concentrating on winning the tournament, picking up another trophy, all the spoils that comes with it. But the bonus money is nice.
"I've been very fortunate. It's not like I can't afford to buy things. I have two nice houses. I don't spend a lot of stuff on materialistic stuff."
The 33-year-old Donald, who but and is still to win a major, believes a key strategic element this week will be to leave putts below the hole on East Lake's slick greens.
"You need to put yourself in the right positions here and give yourself good looks," he said. "These greens can get quite fast, and putting uphill is a big advantage."
Rose, who beat the 70-man field to win by two shots in Chicago, said: "Last week the cheque didn't enter into my mind once until I saw the number [$1.4m], and I was like, whoa, that's a big cheque.
"This week, it's the first time it really gets people's attention and it changes and it's a big amount of money... thinking that way about it, though, doesn't help you play better golf.
"The key and the strategy still is to do what you do best, to use all your skills, to stay in the moment. What makes winning a huge challenge is to deal with the pressure of the $10m and keep your game in shape and in check."
Johnson won the opening event, , in New Jersey at the end of August before