Luke Donald reveals US Tour dilemma as he bids to make history
Last updated on .From the section Golf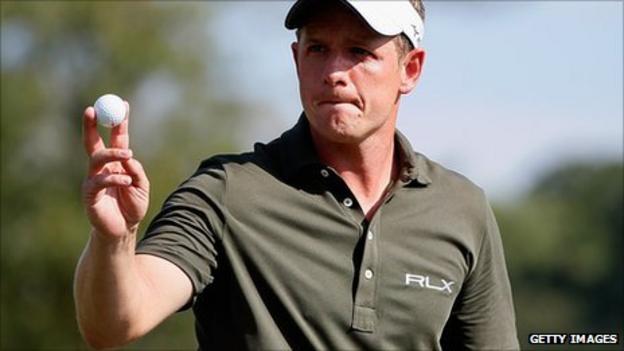 Luke Donald faces a US PGA Tour dilemma as he prepares to tee off in the European Tour's Dunhill Links Championship in Scotland on Thursday.
The world number one is bidding to become the first player to finish top of both prize money lists.
He leads Rory McIlroy by £1.4m in Europe's rankings, but is only £44,000 clear of Webb Simpson in the US.
Donald, 33, is not planning to play in the last four US events but may change his plans if Simpson overhauls him.
"Right now I'm not planning on playing another event [on the PGA Tour] but I have to weigh up the pros and cons of trying to win the money list, for personal reasons and in terms of needing rest," said England's Donald.
"I'm not sure whether he's [Simpson] playing an event either but he might be and then I'll be tempted to add one too."
Donald's wife Diane is expecting their second child in six weeks, but he admits the lure of making history may force him to rethink.
"You're always trying to achieve things that no-one has ever done," said Donald. "It would be pretty special."
A first prize of £511,000 is on offer at this week's Dunhill Links pro-am event, which starts at St Andrews, Carnoustie and Kingsbarns on Thursday and world number two Lee Westwood and third-ranked McIlroy will be hoping to make up ground on Donald.
Northern Ireland's McIlroy, who won his first major with the US Open title earlier this year, believes he can still put plenty of pressure on his Ryder Cup team-mate in the coming weeks.
"I feel like I can concentrate on just trying to win tournaments then the Race to Dubai will take care of itself but I want to try to get closer to Luke and put a bit of pressure on him with a couple of events to go," said McIlroy, who also plans to play in Korea, China, Dubai, Thailand and Bermuda before the end of the year.
"I want to get a win before the end of the season and I feel that I'm playing well enough."
Westwood, who won the European Order of Merit in 2000 and 2009, sits fourth on the European money list, £1.6m off the pace.
But the 38-year-old feels his final three tournaments of the year will give him enough of an opportunity to move above his fellow countryman.
"[Donald] obviously thinks that the guys around him are good enough to win the rest of the events that he's playing," said Westwood, who is also eyeing the world number one spot.
"I feel like I can win here, China and Dubai and that will surely give me enough money to go past him."