Sport and celebrity mix at Dunhill Cup
By Jim Spence
BBC Scotland
Last updated on .From the section Golf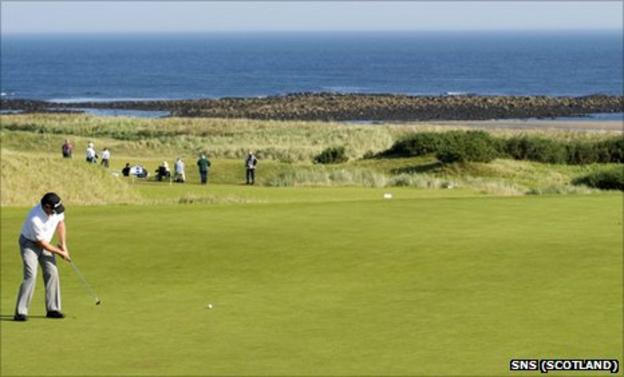 This week's Dunhill Cup gives the Scottish public a rare chance to watch the world's top golfers and "A-list" celebrities teeing off on their doorstep.
The first tee at St Andrews on Wednesday provided a great free spectacle for golf fans and celeb watchers alike, as Lee Westwood, Luke Donald, Darren Clarke and other top golfers launched magnificent drives into an azure blue sky, then watched them sail distances which mere hackers like myself can only enviously dream of.
Also on the tee were top actors like Michael Douglas and Andy Garcia.
It's not often that mere sports hacks mix with the stars of the silver screen.
It's instructive when we do though.
I'm at a stage in life when I'm long past celebrity worship : nevertheless in my interview with Garcia, who gave a magnificent performance alongside Sean Connery in the Untouchables, I was struck by the innate sense of decency emanating from a man who every day of his life will be pestered by reporters and journalists throwing the same old tired questions at him.
He was unfailingly courteous and told me that he was blessed to be playing at such a sublime venue.
On such a day, with the Championship teeing off in unfeasibly glorious sunny September weather, it was impossible to disagree with him.
The Dunhill is played over three of the top Links courses in the world, at the Old Course at St Andrews, the Championship Course at Carnoustie and the highly rated Kingsbarns.
Only the final day sees fans dipping into purses and wallets since the event until then is free.
As I sauntered in the sun among fans, there were everything from grannies enjoying a nice lunch and an ice cream, to golf fanatics looking to pick up tips on how far their shoulders should be rotating on their next swing.
In front of appreciative and respectful crowds on the practice tees, former Dutch football superstar Ruud Guulit, still looking athletic enough to pull the boots on, honed his driving skills, while a few yards away, an immaculately tailored, Garcia, with trademark shades, made last minute adjustments to his iron play.
Within chipping distance of both, US Open winner Rory McIlroy was hitting balls around three hundred and forty yards with the kind of graceful and effortless precision, which left watching club golfers slack jawed in awe and admiration.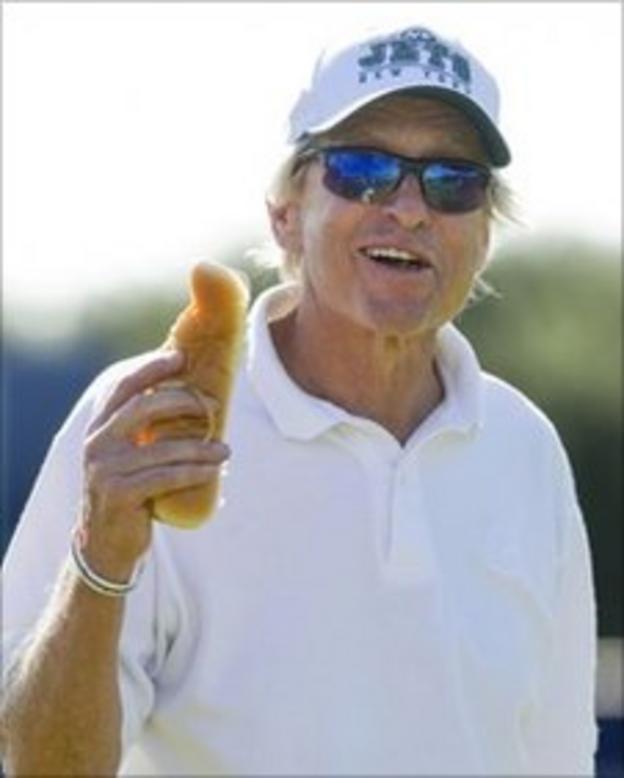 The competition though is more than just a who's who of the world of business and celebrity.
With a prize fund on offer of around five million US dollars and Ryder cup points to play for, the pros are there to have fun, but also to make sure the fun doesn't get in the way of the serious business of winning both cash and points.
The Dunhill is played over 72 holes of stroke play and features 168 Pros with 168 amateurs, so there is plenty to occupy golfing afficionados and just the plaing nosey.
Any notion that mere celebrity buys you a place is wide off the mark, since amateur men must have a recognised handicap of 18 or better with amateur ladies requiring a handicap of 24 or better.
The final round is played over the Old Course on Sunday, at St Andrews, the omens so far have been good for a tournament which shows Scotland up in a great light.