Ernie Els aiming to turn back the years
Last updated on .From the section Golf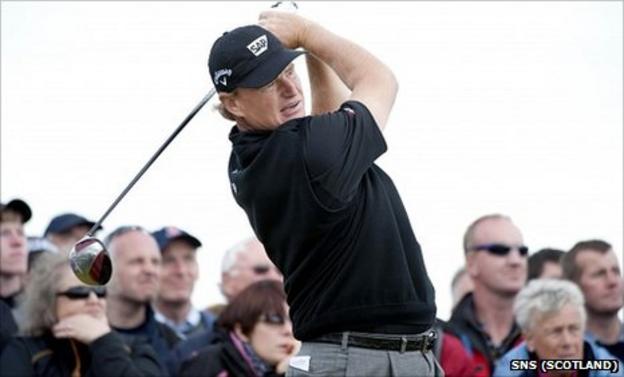 Ernie Els believes Darren Clarke's win in The Open this year can inspire him and other golfers of his age group to regain the form of their younger years.
"He really opened the gates for us, making us believe that we can do it," said Els, 41, of 42-year-old Clarke.
"With him winning, and way back Ben Hogan played some of his best golf in his 40s, there is still some hope.
"There is still a lot of golf left in us, especially links golf that I know so well and I love so much."
Els won three majors in his prime - the US Open in 1994 and 1997 and The Open in 2002 but his form has dipped in recent years.
The South African is currently ranked 45th in the world and missed the cut at three of this season's majors after finishing in a tie for 47th at the Masters.
But speaking to BBC Radio Scotland's Golf Show in St Andrews, where he is competing in the Dunhill Links Championship, he said that he is working hard to improve his game.
"Over many years now I have played at a certain level and I want to try to get better," he said.
"I've had a very 'off' year. I want to refine my game a little bit more, working on my short game a lot.
"I am getting used to this belly putter - hopefully they will keep it legal for another couple of years.
"It takes time, it takes a bit of effort.
"Obviously this year I went a little backwards but I feel I can still win some major championships. That is my belief. I feel I can win some really big tournaments."
"In majors I really feel that I have a chance because with experience you know what to expect and what kind of shots you need to play and you can do that under pressure."
Els's Open success came at Muirfield and he has other good memories of playing in Scotland.
"I love it here," he enthused. "I won the Scottish Open a couple of times at Loch Lomond, I won the Open Championship at Muirfield so I love playing here. I get that golfing feeling here. The type of golf that you get here is a bit different.
"The people are great - they don't go too crazy for bad shots and not too crazy for good shots eiether.
"It is wonderful playing up here."