Tiger Woods eyes winning return to PGA Tour at CordeValle
Last updated on .From the section Golf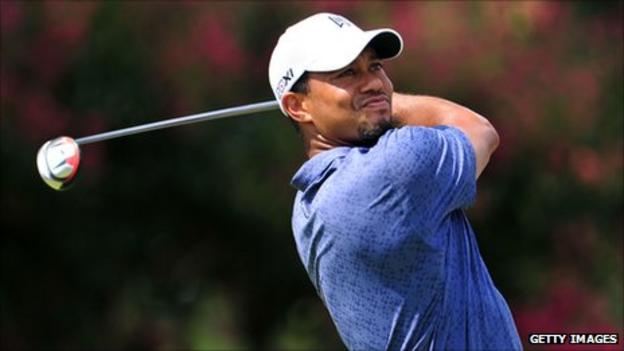 Tiger Woods insists he is eyeing a quick return to winning ways on his return to the PGA Tour.
The 14-time major winner will return to action at the Frys.com Open at CordeValle Golf Club on Thursday.
He has not played since failing to make the cut at the USPGA Championship in August owing to injury and recently .
"Success for this week? Getting the 'W' [win]," Woods told the official USPGA Tour website.
"I've been playing a lot of holes and getting my instincts back.
"[New caddie] Joey [LaCava] came out here a couple of days ago and worked the course and got all the numbers. I told him what I wanted on each hole.
"So far I have struggled on the pace, I've been trying to get a feel for the course and I have to do some work on that," added the 35-year-old.
Woods posted a score of 62 at his home course in Florida recently and he believes that having been able to hone his game at his leisure, he is now ready to be competitive again.
"I hadn't posted that low a round in a long time, so it felt good to do so," he said.
"I've turned the corner and have been shooting some good rounds. It was pretty good to post a 62. It was a pretty easy round."
He added: "I needed to play holes, hit shots and feel the winds. Every day is hot in Florida, but there are winds. I have worked my way back gradually."
When it was put to him that he may never win another major, Woods said: "It's not the first time I've heard that. I've kept on winning."