Luke Donald starts well in defence of his Madrid Masters title
Last updated on .From the section Golf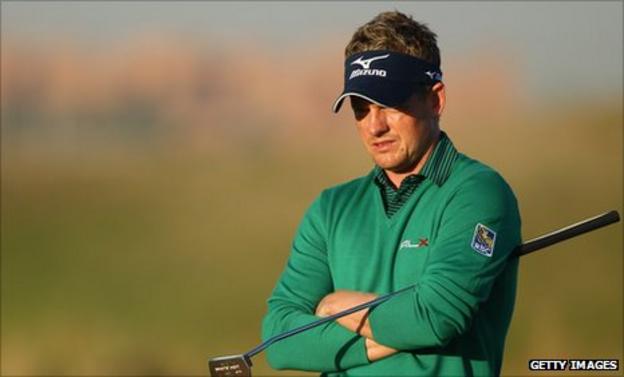 England's Luke Donald began the defence of his Madrid Masters title with a solid four-under-par round of 68.
Two uncharacteristic mistakes by the world number one cost him an early share of the lead.
Errors at the ninth and 18th resulted in bogeys at both, and he also missed a great birdie chance at the 17th when he missed a three-foot putt.
Ross McGowan heads the leaderboard at the end of day one, at eight-under, one shot clear of the chasing pack.
"The 18th played a little longer in than I thought and my three-iron didn't quite get there." said Donald. "And the greens, which are very undulating, can be very difficult if you don't hit them in the right spots."
He prepared for the tournament by winning Wednesday's pro-am, playing alongside the late Seve Ballesteros's 21-year-old elder son Javier.
McGowan carded his lowest European round for three years, with a fine 64.
"I think I like Madrid. That was a much better round than I've been putting together recently," he said.
"It's been a pretty tough year with a couple of injuries but it's been improving week-to-week and this week it really seems to have come together."