George O'Grady vow to back Castle Stuart for Scottish Open
Last updated on .From the section Golf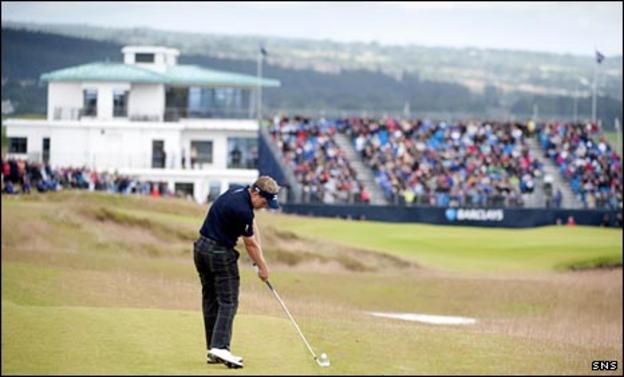 George O'Grady insists the European Tour's preference is to remain at Castle Stuart despite the course being in danger of losing the Scottish Open.
And the Tour chief executive admits that the Scottish Open itself could even relinquish its calendar slot the week before the Open Championship.
"We want to go to Castle Stuart," he said of the search for a new sponsor.
"If we can't be in Scotland at all, we'll have to consider our other alternatives."
French Open officials have already held discussions with the Tour about the possibility of moving their event to the slot usually reserved for the Scottish Open.
The uncertainty stems from Barclays' decision to end its 10-year sponsorship of the event, which offered £3m in prize money this year.
It was moved from Loch Lomond to Castle Stuart for 2011 to satisfy player desire for a links course to prepare better for the Open.
But the venue near Inverness suffered unusually heavy rainfall and the event was reduced to 54 holes as a result.
"As Castle Stuart know, if we can't gain sufficient sponsor interest to be there, we won't be able to afford to do it," O'Grady told BBC Scotland's Sport Nation programme.
"But, at the moment, all the talks we are having are based on the fact that Castle Stuart made us so welcome last year and they are keeping the door open for this year."
Barclays pulled out citing problems in the banking market in the UK, but O'Grady believes the tournament still brings "tremendous credibility and visibility, first in this country and then the rest of the world".
"It is a tremendous property to have and sell, but these are tough economic times," he said, stressing that reports that the Tour would require a sponsor to put up £5m were exaggerated.
"The great thing is that we are talking to three or four companies right now.
"But talking and closing the deal are two different things."
O'Grady said the Tour hoped to make a decision within the next few months.
"We'd like to tie it up this year, but there's no rules on this agreement," he said.
One place the Scottish Open will not be going to is Donald Trump's new golf course at Balmedie, near Aberdeen, which is due to open in July.
"What is absolute fact is that we discussed all opportunities about tournament golf in Scotland at his staggering new golf course," said O'Grady as he played down reports of a possible move to the new course.
"I was very touched that he picked up the phone when he read that Barclays pulled out to say is there anything he could do and apologised because his golf course would not be ready before 2014.
"What I like about is that he said there was no point in coming up until the place is properly finished.
"If you play a new golf course too early, everybody notices the things that are not quite right."
However, O'Grady envisaged the new course becoming part of the circuit at a later date and stressed that business magnate Trump "would be an ally of the European Tour and we want to keep it that way".