Lee Slattery wins Madrid Masters by one shot
Last updated on .From the section Golf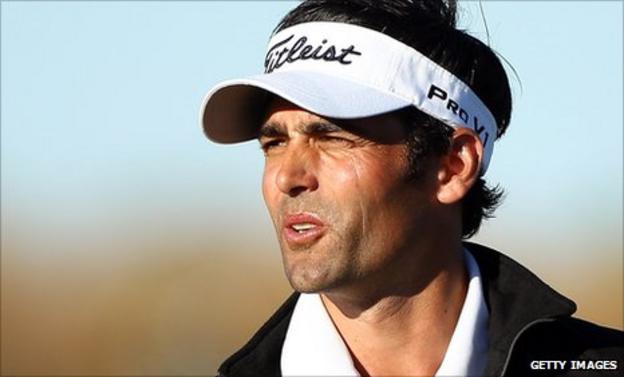 Englishman Lee Slattery won the Madrid Masters by one shot to claim his first European tour title.
The 33-year-old finished one under for the day and 15 under for the tournament to pip Italy's Lorenzo Gagli.
Slattery landed in the water on the 18th but despite the double bogey won for the first time in seven years on the tour.
"People have been telling me for years I can win and now I believe it," he told Sky Sports.
"That has been the biggest problem and this [win] for me is huge."
Luke Donald failed to retain his title, a final-round par leaving him eight under for the tournament.
Slattery held a two-shot lead going into the 18th but put his third shot into the water.
He regained his composure, pitching his fifth to within 15 feet and two-putted for a double bogey, which was enough to seal the victory.
"I had a two-footer on the last to win and I have never shaken so much in my life," he added.
"I was so relaxed on the back nine, making birdies, but as soon as I made a mistake, like I did on the last, it became quite tough.
"It was nerve-wracking."
Slattery lost his tour card in 2007 and after missing six cuts at his last 11 events was in danger of suffering the same fate once again, but he is hoping the win can change his fortunes.
"It's more the belief," he said. "I have been out here for seven years and now I believe I can win."
The victory is worth $223,000 (£143,000) in prize money for the Southport-born player.