Coach believes Padraig Harrington can return to the top
Last updated on .From the section Golf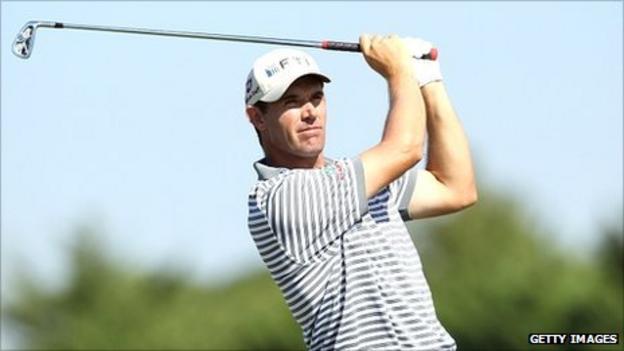 British coach Pete Cowen believes he can help his latest pupil Padraig Harrington put his recent woes behind him and return to the top of the game.
Three-time major winner Harrington has plummeted down the world rankings to 78th, from a high of third in 2008.
He turned to Cowen in August, hoping the Englishman could help him improve his swing and once-potent short game.
"With time, he's now capable of getting back to being the best short-game player in the world," said Cowen.
In July, Harrington parted company with his coach of 13 years, Bob Torrance - father of former Ryder Cup captain Sam - after hitting a new low by missing the cut at the Open and Irish Open.
This followed an alarming slump in form since winning the last of his majors, the 2008 US PGA Championship, which resulted in the Dubliner seeking out the advice of Cowen, whose many pupils include world number two Lee Westwood.
Harrington has already shown signs of improvement with an eighth-place finish at the Dunhill Links Championship two weeks ago, which he will be hoping to follow up with a strong showing at this week's Portugal Masters.
"Padraig came and asked me at the Bridgestone [tournament] if I would give an opinion on his swing and what I thought might improve it," said Cowen.
"He thought he was spending far too much time on his long game, to the detriment of his short game. Padraig won two majors in 2008 with the best short game in the world. He felt as though he'd neglected that and when you looked at the stats it proved it. He'd become almost non-competitive.
"He's good at bashing himself on the range and he couldn't understand why he wasn't getting any better.
"Padraig told me he had the wrong feeling with his swing. I then explained how he could get rid of that feeling.
"I just tried to simplify his action. It was complicated and required massive amounts of time. I felt he needed better mechanics which need less time spent on it.
"We've put a lot more stability on his right side on the backswing so he supports the club better, a simple movement which then needs constant repetition. Then he can make the right action on the through-swing. If you load the swing right, you unload it correctly.
"I've given him a training aid for the range that does that while he's swinging. It's a two-thumb grip put on in a certain way on the shaft. He's now more comfortable with his long game and can concentrate more on his short game again.
"Obviously Bob's done a great job because Padraig's won three majors but we all know that it's the short game that makes the difference in the long run."