Tiger Woods prankster watched movie before bizarre stunt
Last updated on .From the section Golf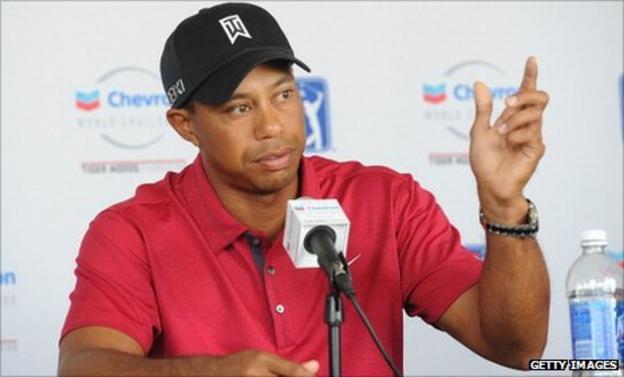 A spectator who threw a hot dog in the direction of Tiger Woods said he was inspired to carry out the bizarre stunt after watching the movie Drive.
Former world number one Woods was at the seventh green when a man burst from the crowd shouting "Tiger, Tiger".
Brandon Kelly then launched the food in Woods's direction at the Frys.com Open in California last week.
"I threw the hot dog towards Tiger because I was inspired by the movie," Kelly said.
Woods was preparing to putt in the final round of the tournament when Kelly, of Petaluma, California, shouted his name and tossed the hot dog.
He was arrested on suspicion of disturbing the peace and is facing a fine as well community service.
Kelly said he formed the idea after watching the movie Drive, in which Ryan Gosling stars as a stunt driver who moonlights as a getaway driver.
He added: "As soon as the movie ended, I thought to myself, 'I have to do something courageous and epic. I have to throw a hot dog on the green in front of Tiger'."
Woods laughed off the incident at the time and Kelly is hoping the 14-time Major champion eventually breaks Jack Nicklaus's record of 18 Major wins.